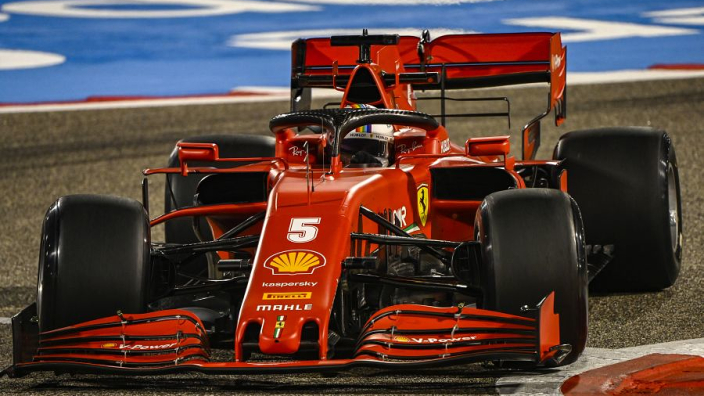 Sebastian Vettel has supported Lewis Hamilton in his criticism of the 2021 Pirelli tyres tried out in Bahrain, saying: "I hope we don't see these tyres again."
Drivers were obliged to complete at least six laps of running on the unmarked new tyre constructions in each of the two Friday sessions, after which Hamilton led criticism saying the tyres are "quite a bit worse" than the current specification.
Many others voiced concerns and Ferrari driver Vettel said: "They were not a step forward. [They were] probably worth a shot but I hope we don't see these tyres again. They are quite a lot worse compared to the tyres that we currently run."
The comments are similar to those made last year, when teams tested new tyres Pirelli planned to introduce this year and their response led to the 2019 tyres being carried into 2020.
Vettel suggested taking the same approach again for 2021 could now be the best option and added: "If that one is the only option for '21 then absolutely I would love to stick with the '19 tyres.
"I think that as long as we don't have a tyre which gives us anything that the current one doesn't give, such as less overheating [or a] better chance to fight each other, we shouldn't get on to a different tyre.
"This one is worse for sure, and it would make all the problems that we suffer with already only worse."
The voices were not all negative, however, with AlphaTauri driver Pierre Gasly one of a small number of drivers to speak positively of Pirelli's work.
"I don't think it is day and night but the characteristic of the tyre is a bit different and the feeling we get in the car is also slightly different so I think it is interesting," said the AlphaTauri driver.
"It was a good first feeling. Overall I would say it was interesting but we need to rethink the set-up we want to use to really maximise it.
"But the main objective of the day was to have a first feeling and understanding of next years tyres and I think we managed to do it pretty well."