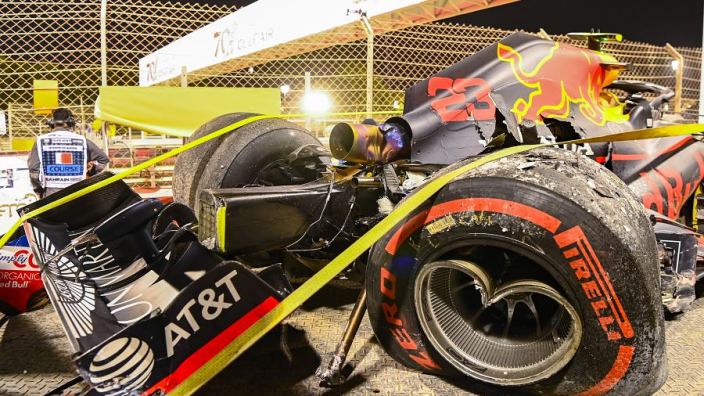 Red Bull team principal Christian Horner declared it "frustrating" to see Alex Albon crash heavily in Bahrain practice but has urged his driver to forget it and move on.
Albon's future at the team is still uncertain with three races remaining this season but Horner again offered the Thai-British driver his support.
"It's frustrating," said Horner. "Thankfully Alex is okay, that's the main thing. It's a great shame that he's had that accident. He's just got to try to put it out of his mind.
"He didn't get the first lap on the medium tyres so he's just got on to the back foot and that accident obviously doesn't help. But hopefully, tomorrow is another day."
Albon has scored just one podium so far in his F1 career with his third place in Mugello, but he has been unlucky on several other occasions, most notably in Brazil last year and at this year's season-opening race in Austria.
Horner offered Albon his backing, believing the 24-year-old has been improving in recent races, but conceded the crash was a costly error for the team.
"In Istanbul and so far this weekend in terms of characteristics and feeling from the car, it has been getting better and better," said Horner. "His feedback has been very consistent to that of Max [Verstappen].
"Obviously, there is a lot of superficial damage. The monocoque looks okay, the engine looks okay, it's not our race gearbox but it's certainly going to keep our guys busy tonight.
"It's difficult to quantify in money but it's a significant amount because the car has been pulled into the barrier and it's done at least three corners, if not four corners, and rear wing, front wing, nose box, so it's a significant amount."