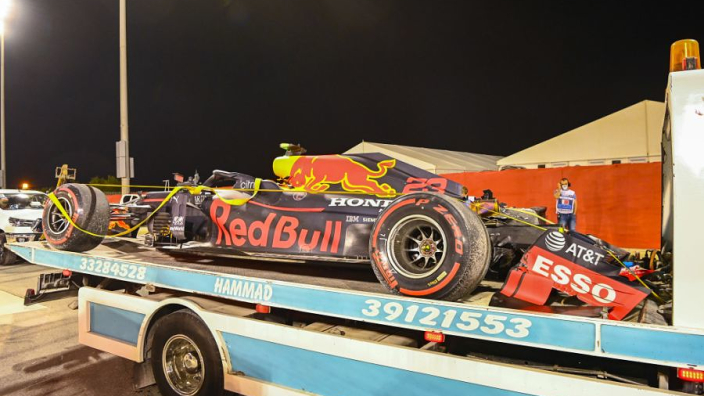 Under pressure Red Bull driver Alex Albon dismissed his practice crash as "one of them things" after he hit the barriers hard while trying to match the pace of team-mate Max Verstappen in Bahrain.
Albon, who finished tenth fastest compared to Verstappen's second, caused the first of two red flags in the session when he ran wide at the final corner and slammed into the barriers.
The right-hand side of the car suffered heavy damage, but Albon brushed off the incident and said: "I should have pulled out of it really. I was a bit surprised by the lack of grip. It was just one of them things.
"It's quite a difficult, awkward angle. Them crashes, so not fun, but all good."
Onboard footage showed Albon keeping his foot flat to the floor and changing up the gears while attempting to recover the initial slide.
Questioned whether his eagerness to keep pushing increased the magnitude of the crash, he added: "I did back out but not enough because when you have one tyre on the astro and one tyre on the grip, that's when the tank slappers happen."
On the other side of the garage, Verstappen finished 0.347 seconds slower than pacesetter Lewis Hamilton's Mercedes with a time of one minute 29.318 secs.
Asked whether he can take the fight to Hamilton and Mercedes across the weekend, the Dutchman said: "You can see they are clearly quick again.
"There is also no surprise by that but from our side we just need to focus on getting an even better balance in the car and just focus on the race because the tyres here are quite tricky. There is a lot of degradation lap after lap."