Lewis Hamilton and Mercedes may have been crowned champions of Formula 1 for this year but that does not mean there is nothing left to play for.
Yes, it is the champion and champion team that will be remembered in the history books, but to the remaining drivers and teams, each position gained or lost by the end of the year is of vital importance whether for personal pride or for the extra zero on the paycheque.
Whatever the motivation, here are some of the key battlegrounds to look out for in the season-ending triple-header in the Middle East.
Fight for third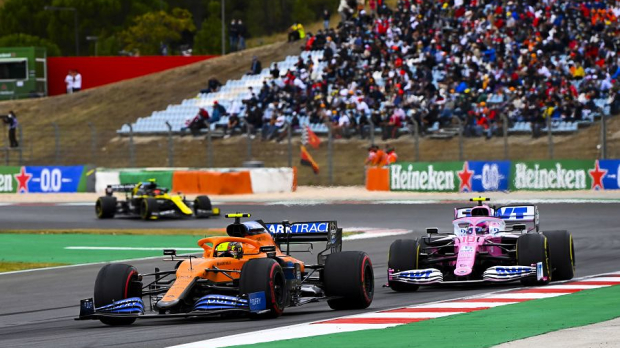 This is the scrap we are most excited about and with very good reason. Racing Point, McLaren and Renault have been evenly matched across the year but the battle was made more interesting with Ferrari entering the fray after a strong showing in the Turkish Grand Prix.
Racing Point tops the order and is the team with the target on its back, with McLaren five points down, Renault a further 13 adrift and Ferrari now just six points off the trio.
Only 10 drivers can score points at any given race and, assuming Mercedes and Max Verstappen secure three of these positions, this means at least one driver of the eight involved in this fight will miss out.
McLaren boss Andreas Seidl has said it many times this year, but teams really must maximise their potential if they are to win this titanic duel.
The lower order
To the bottom of the table now and to Alfa Romeo, Haas and Williams. While far from the glamour end of the grid, finishing top of this trio is vital to each team in securing budget for 2021 with millions of dollars up for grabs with each position gained.
With drastically changed aerodynamic regulations coming into effect from 2022, ensuring the funds are available to develop and exploit the new rules across the coming months is potentially more vital than ever.
On eight points, Alfa Romeo currently heads the order, with Kimi Raikkonen and Antonio Giovinazzi splitting the points equally. Haas has three points and Williams, on course for statistically its worst year ever, on zero.
One crazy race, however, and the picture could change completely.
Hamilton's number two – Bottas versus Verstappen
Hamilton is the champion but the battle still rages between Valtteri Bottas and Max Verstappen as to who will finish second.
Bottas currently enjoys a 27-point margin over the Red Bull driver, but this is far from a comfortable gap as one retirement for the Finn will almost certainly set things up for a grandstand finale.
In the nine races in which both drivers have finished, Verstappen has beaten his rival five times. But while reliability woes for Bottas could reduce his advantage, it is more likely the Dutchman who will be concerned about his ability to reach the flag after registering four DNFs this year. In contrast, Bottas has retired just once.
But Hamilton could surely help Bottas secure second by waving him by if needs must I hear you say. Well…
More records on the line for Hamilton
Maybe not. Hamilton has already secured his place as one of the greatest drivers in F1 history. Whether or not he tops the list is a topic that will continue to be debated at length.
This season Hamilton has become the driver with most wins and podiums, while also further extending his record of the most pole positions and, of course, equalling Schumacher on seven world titles.
Hamilton, however, can now equal the record jointly held by Schumacher and Sebastian Vettel for the most wins in a single season if he can claim victory in each of the remaining three races.
For the Briton to achieve this, he would need to topple his personal best of six consecutive race wins and hit a magnificent seven, a total somewhat appropriate this year. Only four drivers have ever won seven or more consecutive races but could Hamilton take the total to five?
Best of the rest – the fight for individual honours
Looking away from Hamilton, Mercedes and Verstappen, the battle to finish fourth, or best of the rest, is heating up nicely.
After finishing second in Turkey, Sergio Perez jumped up from sixth to head the battle by three points from, incredibly, Charles Leclerc.
Given the underwhelming pace of Ferrari across the year, seeing the Monégasque in the mix will come as a surprise to some.
Mathematically every driver down to Daniil Kvyat in 14th is involved in this particular battle. In reality, the fight boils down to Perez, Leclerc and Renault's Daniel Ricciardo, with McLaren duo Carlos Sainz and Lando Norris on the fringe of the fight as they are 25 and 26 points adrift of Perez respectively.
The 'fight for third' in the constructors' standings may have grabbed the headlines with the financial rewards that accompany that particular championship, but it is these individual battles, particularly with Perez still yet to secure a drive for next season, that will decide the final shape of both tables.
Contract talks – a last chance to impress
Last but by no means least, we come to the sensitive topic of driver contracts. As said above, Perez is without a drive for 2021 and, whichever way you slice it, the fact a driver so high up in the standings is struggling to find a drive is not a good look for the sport.
Alex Albon is under immense pressure at Red Bull and, while currently sitting ninth in the drivers' standings and trailing team-mate Verstappen by 100 points, it is simple to see why Red Bull are eyeing up Perez as a potential replacement.
With Pierre Gasly confirmed at AlphaTauri and engine supplier Honda keen to place F2 driver Yuki Tsunoda at the team next year, Albon is not just fighting for his Red Bull seat, but possibly his F1 career as a whole.
Tsunoda, however, must still secure at least fifth in the final F2 standings to claim the required super licence points to make the step up to F1, a fate also shared by Nikita Mazepin, a driver heavily linked with one of the two Haas vacancies.
Should either, or both, of the drivers fail to achieve this rank, last-minute opportunities may open up elsewhere. As ever, it is not over until the fat lady sings.
Before you go…
Red Bull sporting director becomes latest F1 casualty of Covid-19