Renault executive director Marcin Budkowski has said proposals to scrap the use of wind tunnels in Formula One by 2030 are "realistic" but "challenging."
Wind tunnels are used by F1 teams to test new developments on scale models of their cars and predict how the full-size machine will react before entering the build phase of the final product.
Teams are already severely limited in the number of hours they can spend in the facilities, and rapid advances in computing technology have allowed some of the work to be replaced with virtual testing using Computational Fluid Dynamics (CFD).
Budkowski believes a ten-year timeframe for the transition is the most "realistic" proposition yet and said: "Every time the topic came up before it was 'let's ban them in two years', 'let's ban them in three years'.
"That just wasn't realistic, so as an objective for ten years' time, which is in line with the sustainability message that we're building around Formula One, I think it's a realistic prospect.
Related Articles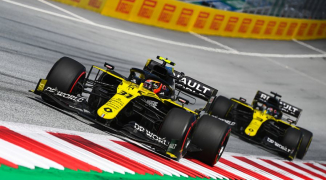 Ocon seeks to exorcise his "bad luck" in Bahrain
Ricciardo out to resolve "unfinished business" in Bahrain
"Over that period of time, it's still a challenge and it will change a lot in the way we develop cars."
It is widely accepted that CFD technology is not yet at a level where it could fully replace the proven results of a wind tunnel itself, due to the high complexity of predicting the complicated airflows around an F1 car.
Mercedes boss Toto Wolff, while agreeing with the concept in principle and the goal of reducing expenditure, warned F1 not to risk the safety of drivers with an "experiment" if the technology is not ready.
However, Budkowski added: "I think the key on this kind of significant technical infrastructure is to do it with enough anticipation.
"Today, wind tunnels are an essential part of the development of a Formula 1 car and the risk by doing everything with CFD, in numerical simulation, is that you get to the first race and the car behaves completely differently from what you expect.
"[Then] you have a hard time actually getting back on track so the risk is that people just lose the correlation with the track and a tunnel is an important element of this.
"Now, F1 loves a challenge and I think if you tell us that in ten years' time we're going to move away from something that's an essential part of the development, because we're going to have to ramp up the simulation part of it, I think it's do-able."
Before you go…
Stroll "taking positives" after reviewing Turkey troubles
Hamilton hoping "global scale" impact of W Series will drive diversity