Max Verstappen has said failing to win the chaotic last race in Turkey left Red Bull "disappointed" and suggested remaining races could make it tougher to get such a result because they will be "more straightforward."
Verstappen and team-mate Alex Albon had shown race-winning pace at different stages at Istanbul Park but a spin while attempting a bold move on Sergio Perez for second early on ruled the Dutchman out of contention.
"Although the track conditions were very tricky on Friday I was pleased with the balance we found and the car was working well," said Verstappen.
"We felt we had good momentum for the weekend so it was obviously disappointing for everyone in the team to finish sixth in the race as it was not where we hoped or expected to be.
"We had some issues and also seemed to eat up the rear tyres quicker than others.
Related Articles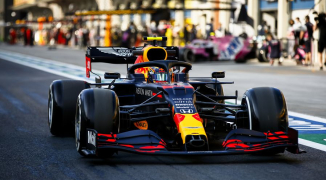 Albon heading "in the right direction" with "more predictable" Red Bull
Red Bull duo at odds over 2021 calendar TBC slot
"It is not only me but everyone in the team who left Turkey disappointed because we all want to win.
"I do not expect that we will see these types of track conditions again though so the last races will probably be more straightforward."
F1 now heads to Bahrain for two races on varying layouts, with the first taking place on the familiar iteration of the Bahrain International Circuit and the second, one week later, utilising the more oval 'Outer Circuit'.
Looking ahead, Verstappen said: "For the first race, it is a track we know very well but it is always tough on tyres so it will be important to find a good set-up to work around that."
Before you go…
Russell expecting 'wacky races' from Bahrain's "bonkers" outer circuit
Hamilton set for "happiest day ever" in collecting knighthood