Alfa Romeo duo Kimi Raikkonen and Antonio Giovinazzi have stressed the need for the team to finally understand the Pirelli tyres if it is to succeed more regularly.
Raikkonen and Giovinazzi have struggled in qualifying sessions this year, with the two drivers combined escaping Q1 just six times, although both notably reached the top-10 shoot-out at the recent Turkish Grand Prix.
Despite the rare success as they adapted to the conditions better than most, it is felt the team has to continue to work to understand the rubber which both men have pointed to as a limiting factor to the C39's performance.
"I'm pretty sure it's the same for everybody," said Raikkonen. "Obviously, I think a lot of people are complaining about them but that is how the tyres have been for many, many years.
"It's a very narrow window to somehow get the best out of them, and there's a huge difference when they work 100 per cent or when they work 80 per cent, how the car behaves.
Related Articles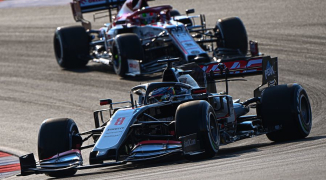 Haas refusing to throw in the towel on its "impossible" job
Raikkonen remains "one of the best" on the grid – Giovinazzi
"When we make them work we can be very high up, but there are also other things that [mean] some tracks are just better for us than others."
Responding to the perception Alfa Romeo is stronger across a race distance than a single qualifying lap, the Finn added: "We need to be faster obviously.
"But there is no magic and it's not like we have tried to put more effort into the races than qualifying. It's just that the others seem to be a bit faster than us in qualifying, and it seems to be a bit better for us on Sundays.
"But I think it's a lot of small things like making the tyres work in the best way for one lap on the set-up."
Up until the race at Istanbul Park, Giovinazzi had been the only driver to gain at least one position on the opening lap of each race of the year.
After starting a season-best 10th, this streak ended in Istanbul as the Italian dropped back one place in the initial shuffle before later retiring.
Despite the rare qualifying showing, Giovinazzi recognises the team's situation would be easier if it was able to extract more over one lap on Saturday.
"I think, from what I remember, the Nürburgring was good for us in qualifying, we went to Q2," said Giovinazzi. "It is always really close for us.
"We know that our main competitors are Williams and Haas in qualifying, so, for now, our target is to be in front of them and if we are in front of them we are in Q2.
"I know that qualifying is more difficult, that our pace is slower in qualifying than in the race but I think we need to just try to put it all together in quali.
"Of course, tyres are the main things to be better in quali and we are working on this."
Before you go…
Newey hiring turned "party team" Red Bull into "serious" contenders – Horner