Red Bull raced its 300th Formula 1 Grand Prix last weekend and team principal Christian Horner has reflected on what he believes to be the key turning point at which the team began to be taken seriously by its rivals.
In his own words, Horner said Red Bull was considered the "party team" in its early days in F1, with the flashy Energy Station and loud music blaring from the garage.
Asked to pinpoint the moment perception of the team changed, Horner had no hesitation.
"Definitely having Adrian join was a turning moment that we went from being the party team to, well these guys are actually serious about what they are doing," Horner told the Talking Bull podcast.
"As soon as Adrian joined, people started taking us seriously and thought 'Christ, if the most successful designer of all-time has walked out on McLaren – who had just narrowly missed out on both championships through reliability issues – if he's prepared to do it, there must be something good going on there'."
Related Articles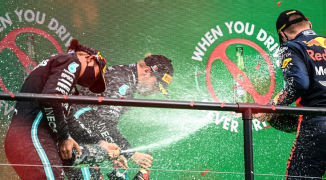 Verstappen frustrated at being 'third-wheel' on a Mercedes date
Red Bull revise power unit deadline to end of November
In conversation with David Coulthard, Horner credited the former-driver for sewing the initial ties between team and designer and joked: "You were quicker than tinder! In those days you were a matchmaker!
"So in those days, DC having driven cars of Adrian's at Williams and at McLaren obviously knew him very well and said 'what you have to do is you get a dinner with Adrian and his wife because, lets face it, the wives make all the decisions'.
"So we arranged this dinner in The Blue Birds in London and that's where it all started and DC was talking to Adrian's wife about everything and anything and that allowed me to have a conversation with Adrian and it turned out we had grown up in the same part of the UK, we'd gone to schools that were almost next door to each other, albeit distanced over time, but we had many things in common.
"I think what Adrian saw was, he was inquisitive why had DC come and what had he found when he got there and was it fun? Because I think he felt slightly stifled at McLaren and this team that was full of energy and ambition, we were not quite sure how we were going to achieve it, but with the backing of Dietrich [Mateschitz – Red Bull owner] and Red Bull and the brand behind us, it really appealed to him."
However, things almost took a turn when the Newey revealed his McLaren salary, as Horner commented: "We found out how much money he was earning at McLaren and he was nearly sent straight home, but Dietrich backed it all the way and said he was the right guy for our team and the rest is history."
Before you go…
McLaren unsurprised by powerful Ferrari resurgence