As the second track to make its official Formula 1 debut this year, Portimão provided a race full of battles, surprises and many overtakes.
While the top four finished in the exact order in which it started, it does not tell the whole story as eventual race winner Lewis Hamilton and Valtteri Bottas twice traded places while Max Verstappen was involved in a lap-one collision with Sergio Perez.
Behind the front runners, Kimi Raikkonen's first-lap magic and the many wheel-to-wheel battles in midfield made for an afternoon full of entertainment at the Algarve International Circuit, so let us start to break it down
Here are our five talking points from the Portuguese Grand Prix!
Hamilton breaks win record but will not stop there
Related Articles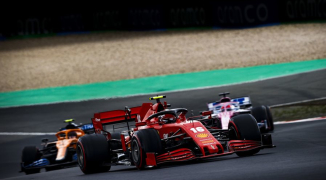 McLaren wary of Ferrari comeback in constructors' championship
All I ever wanted was for Lewis to have a decent job, says Hamilton's dad Anthony
With a historic 92nd career win, it feels like Lewis Hamilton is only just hitting his prime in Formula 1.
At 35 years of age, the Briton looks more dominant than ever as he won by over 25 seconds on Sunday, his biggest winning margin of the season.
The theme of 2020 has been Hamilton shattering historic records.
First, he broke Michael Schumacher's record for most podiums, followed up by taking Der Rekordmeister's win record and, imminently, tying the German for most titles later this year – unless his 77-point lead somehow vanishes in five races.
The question now is how high Hamilton can set the bar for the next generations when he does eventually retire. With 92 wins and 97 pole positions, both numbers will only move north of 100. Will his records ever be broken?
A corner turned or a one-off at Ferrari?
For the first time since the 70th Anniversary Grand Prix, seven races ago, Ferrari and specifically Charles Leclerc finished a race in the top four.
The way in which this was achieved was very promising as Leclerc, who again strongly qualified strongly in fourth, was simply the quickest midfield driver on the day by quite some margin. Previously, strong qualifying outings would be undone by poor race pace.
With the low-grip surface and gusty cool weather in Portimão, however, the Portuguese GP provided some highly unusual circumstances which potentially could have favoured the SF1000's characteristics.
Imola this weekend will be a chance for Ferrari to prove that Sunday was not just a one-off but a corner has been turned in Maranello as the team desperately tries to refind some of the form from past race-winning seasons.
Alex Albon is running out of time
Not for the first time this season, Alex Albon was lapped by team-mate Max Verstappen on Sunday.
Team principal Christian Horner said ahead of Sunday's race that the Thai-British driver was running out of opportunities to lay claim on his seat for 2021, and finishing 12th when your team-mate is on the podium is, quite simply, not good enough.
With an unusually strong free agent pool that includes Perez and Nico Hülkenberg, Albon will have to bounce back at Imola, or his adventure at Red Bull could be over sooner than he would hope.
Teams should make room for Sergio Perez
After an impressive recovery drive that resulted in Driver-of-the-Day honours, Perez again reminded the F1 paddock he would be an asset to virtually any team.
The Mexican has no drive for 2021 after being ousted by Racing Point in favour of Sebastian Vettel for next season when the team rebrands as Aston Martin.
Despite rumours circulating of Perez taking George Russell's seat at Williams, it could be argued the eight-time podium finisher deserves a drive at the top of the grid.
Amidst the uncertainty over Albon's futurel, Horner and Helmut Marko could opt to attract Perez to share the garage with Max Verstappen as the team continues its quest for a second driver who can keep up with the Dutchman.
One thing is for sure, Perez is not only worthy of being in F1, but is deserving of having a car underneath him that can fight at the front. His drive from 20th to seventh at Portimão was further evidence of that.
Portimão is a worthy F1 track
With concerns over a lack of overtaking opportunities and track limits not being honoured, Portimão passed its F1 debut with flying colours.
The positively chaotic opening laps provided top-shelf racing, with Carlos Sainz charging through the field to take the lead while Raikkonen unbelievably gained 10 positions after a flying start.
Later in the race, lengthy wheel-to-wheel battles unfolded as well between Raikkonen and Sainz, as well as Perez and Ocon
While Romain Grosjean and Stroll both received time penalties for exceeding track limits too often, it did not seem problematic for the majority of the field to drive within reason.
The only note we have is the DRS on the main straight seemed extremely powerful, often leaving hunted cars completely defenceless, but overall, the first Portuguese GP since 1996 was a resounding success in our book.
Before you go…
How "calm" Hamilton eased Mercedes nerves en route to breaking Schumacher record
Giovinazzi endured radio silence throughout "disaster" race in Portugal