Red Bull will not replace driver Alex Albon before the end of the season, team principal Christian Horner has confirmed, after he finished a disappointing 12th at the Portuguese Grand Prix.
Not for the first time in 2020, Albon was lapped by his team-mate Max Verstappen, the Dutchman outclassing the 24-year-old as he did with Pierre Gasly in 2019 before his demotion.
While Verstappen took his ninth podium of the season, finishing behind the two Mercedes one again, Albon's 12th meant missing out on the points and prompted questions over his future with the team.
Horner, who said before the weekend that the races at Portimão and Imola would be crucial to making a decision on Albon, insisted Red Bull will wait until the end of the year before making the call.
"We're committed to Alex for this year," Horner said after the Portuguese Grand Prix.
Related Articles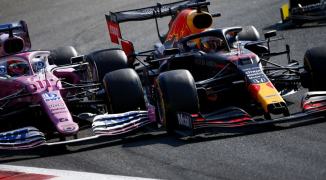 Perez "took himself out" in lap one incident – Verstappen
Hamilton goes through pain barrier to break Schumacher's F1 win record
"And as I say, everybody in the team wants him to lay claim to the seat next year. He's a great guy, we believe he does have talent, he's still only in his second year in Formula 1 and it's tough, it's very tough.
It's mentally tough, it's tough going up against Max. He showed that he can bounce back previously and I really hope for him that can bounce back from a difficult weekend here at Imola next weekend."
Horner has repeatedly stated that Red Bull will not consider a return for Pierre Gasly, despite the Frenchman having shown tremendous form firstly at Toro Rosso and then AlphaTauri in the past 12 months.
The Frenchman has twice been on the podium and even claimed his maiden F1 win at Monza, but it has not been enough to convince Horner that resigning the Frenchman is the answer.
He explained: "Our first and foremost priority is to give Alex the opportunity to make claim to that seat. Let's not forget when he jumped in that car last year he outscored and outperformed Pierre significantly on the balance of 2019.
"If we were to swap them back, why would it be any different?"
Before you go…
Toto Wolff on Hamilton contract: We'll have to sell factories to afford him now!