Mercedes driver Valtteri Bottas conceded he regretted his decision to opt for a single flying lap at the end of Portuguese Grand Prix qualifying as the Finn narrowly missed out on pole position.
Bottas' team-mate Lewis Hamilton, who did decide to run two flying laps on the medium compound, set a time of 1:16.652 at the death to claim his 97th career pole position.
After leading every session of the weekend apart from Q1, Bottas looked odds-on to take pole position but was left regretting his strategy choice. However, the Finn offered an explanation as to why he opted for his call.
"With one timed lap you can have less fuel in the car but you might struggle with the tyre warm-up," he said.
"I went for that, it was my decision to go for one-time because it worked in Q2 but apparently it seemed like doing two-timed laps for Lewis was better.
Related Articles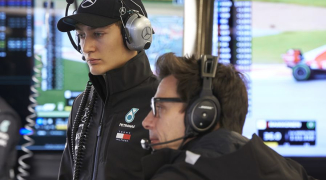 Mercedes can't help Russell in fight for Williams seat – Wolff
Hamilton expecting Portuguese qualifying "dogfight"
"Obviously at the end, we decided to go for the medium based on the feeling. Previously, in the qualifying medium actually felt a tiny bit quicker than the softs so that was the reason.
"Then it was choosing if we do two timed laps with a cooldown in between or just one timed lap."
While insisting he was happy with his final lap, Bottas recognised Hamilton's strategy ultimately paid dividends.
"It was a decent lap, not perfect. It's been tricky here to get really clean laps this weekend because of the way the track is. I think ultimately, I should've gone for two timed [laps] as well."
Before you go…
Hamilton again crushes Bottas' spirit with last-lap qualifying drama to claim 97th pole