FIA race director Michael Masi has revealed the cause of the broken drain cover that delayed Portuguese Grand Prix qualifying had never been witnessed before.
The incident was sparked when Ferrari's Sebastian Vettel ran over a section of drain at turn 14 at the end of final practice, leading to a red flag that cut the session short by two minutes.
While it is not uncommon for a drain cover to break loose, as occurred in Baku in 2019 and Malaysia in 2017, the cause on those occasions was due to poor welding.
In Portimão, however, Masi said: "It's something we haven't really seen before with a collapse, that I've seen of that nature, certainly.
"It wasn't actually the drain cover, per se. It was actually the concrete case underneath [that] collapsed. What we saw sticking up was the drain cover itself.
Related Articles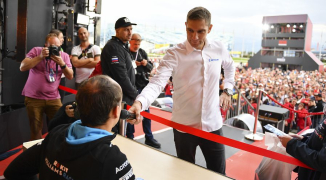 FIA defend Petrov stewards' appointment following Hamilton remarks
Hamilton slates FIA choice of Petrov as steward after controversial BLM/gay remarks
"As soon at it was noticed, FP3 was obviously suspended and it didn't continue. A repair was undertaken to that area.
"Further checks were undertaken for a number of other drains at exactly the same point in time, just to see."
Masi, who also offered his condolences to FIA steward Vitaly Petrov after the sudden passing of his father, continued to explain new concrete was inserted underneath the drain cover to ensure future safety.
While an F1 car produces an incredible amount of force which severely stress tests any surface, Masi confirmed a number of safety precautions had been undertaken ahead of this weekend's running.
"It's one of those, we don't realise or probably appreciate the forces an F1 car generates," added Masi. "It was one of those that was certainly unforeseen, is probably the right way of putting it.
"Considering the circuit's had a significant number of upgrades before this event, including the entire resurfacing of the circuit as well as a number of safety barrier upgrades, all of the drains were also checked at the same point in time."
Before you go…
Petrov steps down as FIA steward after shooting death of his father