Mercedes motorsport boss Toto Wolff has revealed his ongoing contract talks with Mercedes are proving complex due to the nature of his involvement with the German manufacturer.
While Wolff has made clear he has no intention of leaving Mercedes due to his "love of the stopwatch", he has previously indicated he is ready to dilute his current role.
But there are hurdles, notably as Wolff is a 30% shareholder of the team which has to be born in mind when it comes to whatever position he opts for in the future.
"Things are happening in the background and are being negotiated," said Wolff with regard to his discussions with Daimler chairman Ola Kállenius.
"But it's not so simple because there is a shareholding and how are we continuing. It's clear that on the Daimler side, and for myself, we want to continue to work with each other in the partnership we have."
Related Articles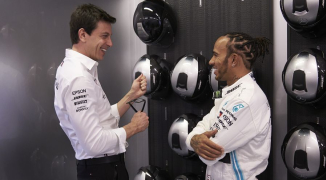 Wolff slates critics who claim Hamilton only wins due to Mercedes advantage
Mercedes name will not be dropped from Formula 1 – Wolff
As for Wolff's negotiations with Lewis Hamilton, those remain on hold due to the near-uninterrupted schedule of races that has left the duo with little opportunity to discuss matters.
"We simply don't have time to sit down and have a chat," said Wolff.
"For Lewis, he wants to be in the quickest car, and we would like to have the quickest driver in our car, so it seems pretty obvious, but we just need to find the time and sit down."
In light of Hamilton's achievements, with the 35-year-old equalling Michael Schumacher's record number of wins after taking the chequered flag for the 91st time in his career at the recent Eifel Grand Prix, Wolff is not expecting the partnership to suddenly dissolve.
"I enjoy Lewis' success a lot as a team principal and as a team," said Wolff.
"As I have said very often, there is not one superstar in the team but 2000 that contribute to the success of the team and contribute to Lewis' successes.
"We joined the team together, we formed a strong bond and I am very happy for his achievements, and I think there is more to come if we jointly work well."
Before you go…
No-one can match Schumacher, not even Hamilton – Vettel