Ferrari sporting director Laurent Mekies has revealed that seeing its academy drivers close to Formula 1 is proving to be "very emotional".
Mick Schumacher, in particular, along with Callum Ilott and Robert Shwartzman stand on the brink of earning a 2021 race seat.
F2 championship leader Schumacher is expected to join Alfa Romeo alongside Kimi Raikkonen should the Finn confirm his desire to remain in F1 for another season.
Fellow F2 drivers Ilott and Shwartzman, meanwhile, are in the running for a seat with another of Ferrari's power unit customers in Haas.
Schumacher and F2 title challenger Ilott should have enjoyed their maiden F1 outings in first practice for the recent Eifel Grand Prix at the Nürburgring, only for the session to be fogged off.
Related Articles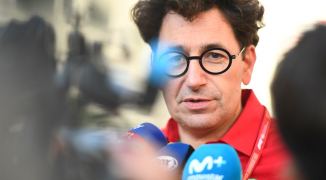 Ferrari warn two-day weekends could lead to more grands prix
Ferrari duo Vettel and Leclerc at odds over two-day weekend
Despite describing that as "a miss" for both drivers, and with hopes now they can run ahead of the Abu Dhabi GP, Mekies is proud of what has been achieved and excited by what lies ahead.
"The academy has been working very well this year," said Mekies. "The guys have done a huge job in dominating such a difficult championship like Formula 2.
"We know they have dominated the Formula 3 championship [in the past] so there is a trend there that we trust that these guys are on the right path. "It [the Academy] is very much integrated into Scuderia Ferrari. Mattia [Binotto] is driving it personally, is putting in a lot of energy and is giving us the means to do the programme we want to do.
"Now we are at the stage where these guys are getting close to the F1 level, it is very emotional. It will give us a headache of how to pick the right ones [for F1] and how to keep developing the other one but it's a good headache to have."
Despite Schumacher and Ilott missing out on the practice session, Mekies added: "It doesn't change anything to their development.
"There are many other steps that they need to make, they are conscious of it, and we are beginning for them this sort of mini-road-to-F1 programme. It was only a small delay in what is a promising result."
Before you go…
Mercedes and Wolff contract talks "not so simple"