Nico Hülkenberg did not believe his eighth-place finish in the Eifel Grand Prix was possible after starting from last on the grid at the Nürburgring.
Hülkenberg produced another super-sub performance after standing in for an unwell Lance Stroll to score valuable points for Racing Point in its fierce battle for third in the constructors' championship.
The German was called up late Saturday morning by the team and was pitched straight into qualifying without previously taking part in practice.
Given the circumstances, Hülkenberg unsurprisingly qualified 20th, but the 33-year-old underlined his skill and experience to fight his way through the field all while he was still acclimatising himself to a much-changed car from his last outing in July.
"What a race and a story that was," exclaimed Hülkenberg. "I really didn't think we could go from last to eighth – I'm not sure many thought it would be possible before the race.
Related Articles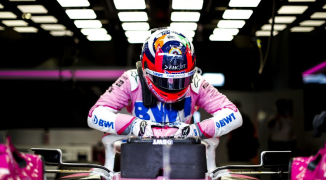 Safety car cost "strong chance" of Eifel GP podium – Perez
Stroll "couldn't get off the toilet" to drive for Racing Point
"A lot of things happened around us and some retirements helped too, but I'm really pleased with our performance and it's a real credit to the team.
"I went out there with the goal of driving as hard as I could, avoiding any incidents, and we managed it well.
"It felt strange at the start as I've not raced around a lot of cars like that for a while, but I made up a couple of places and I started to get into a good rhythm halfway through the first stint, which was crucial because we were able to extend it and it helped me get up to speed.
"Obviously a huge learning curve through the race for me, adapting to the car and the grip. Bit by bit, it was getting better and better.
"That's all I was busy with, pushing myself and the car. I managed the tyres in the first stint and I think that was key to have a strong second stint and it kind of unfolded.
"The race came towards us, a couple of people dropping out which obviously helped us too. Very happy to be able to get points for the team and to show like that."
Hülkenberg, who is keen for an F1 drive in 2021 but not "desperate", finished seventh on his previous substitute appearance at the 70th Anniversary Grand Prix at Silverstone when he replaced Sergio Perez who had tested positive for Covid-19.
After being thrown in at the deep end on this occasion compared to that outing, notably given the changes to the car, he added: "It's mainly about the steering that they've changed a lot.
"That's something that takes some time to get used to and to get your head around. Obviously, four laps in quali is not going to do the job and then that was one of the things in the race that I got more and more on top of.
"Just using the car's pace, to be honest, and managing to stay faultless."
Before you go…
Hamilton vs Schumacher – The stats records of F1's two most successful drivers