Racing Point technical director Andrew Green believes Sebastian Vettel will be able to teach the team how to become race winners and championship contenders.
Vettel will leave Ferrari after six years of service at the end of the current campaign after becoming the marquee signing for Aston Martin, currently Racing Point, for 2021.
The Silverstone based team has consistently punched above its weight, making the most of limited resources to often put those with larger budgets to shame.
However, the team has been unable to bridge the chasm between the midfield and the championship battle, and Green believes the "completely new dynamic" Vettel will bring to the outfit will be crucial to achieving this goal.
"He's a multiple world champion," said Green. "He's going to bring a methodology of working that we haven't seen before. That's what we want.
Related Articles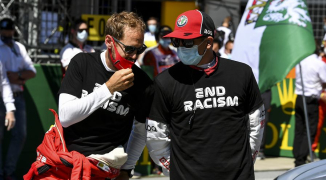 Raikkonen ties Barrichello record, Vettel celebrates milestone
Perez "disappointed" by Racing point leaks
"We want someone who's been there and done it and show us what it takes.
"What does it take to start winning races? What does it take to win a championship? And he will bring that."
Team owner Lawrence Stroll, says Green, has show his "measure of intent" in bringing the four time champion to the team, but he added that the move is not only a chance for the team to rise to the top, but also for Vettel to put a difficult couple of years behind him and start fresh.
"I think he's not in a great place at the moment in his head," Green analysed, "I think he's lost his mojo a little bit.
"And I think we're just the best team at turning drivers around and getting them back into their sweet spots. I think we can really help him."
Before you go…
Renault confidence growing despite "points left on the table" in Russia