Kimi Raikkonen has tied Rubens Barrichello's record for most starts in Formula 1 history at the Russian Grand Prix with 322.
In typical 'Ice Man' fashion, Raikkonen said ahead of the race that holding the record "doesn't make a difference" to him.
But the Finn wasn't the only driver to hit a milestone at the Sochi Autodrom, as his former Ferrari team-mate lined up on the grid for the 250th time.
Looking at these and much more, it's time to analyse some of the best stats from the 2020 Russian Grand Prix.
The Ice Man writes history
Related Articles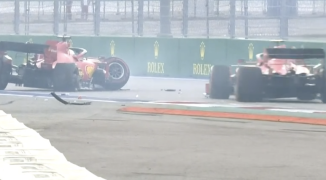 Vettel "tried to take risks" before Russian GP qualifying crash
Vettel "sad" to see Schumacher's "impossible" record tumble to Hamilton
It is quite possible we are more excited about this than Raikkonen himself is, but having the joint-most starts in F1 history is a mightily impressive feat.
Starting out at Sauber in 2001 and competing in 17 grands prix, Raikkonen moved to McLaren in his sophomore season, representing the British team on 87 occasions – winning 9 races – until the end of '06.
Almost half of the Finn's starts in F1 have come during his two stints with Ferrari. Raikkonen drove a total of 151 races for the Scuderia between '07 and '18, in which he managed 10 wins and, most famously, the "07 world championship.
Incidentally, Raikkonen remains the most recent drivers' world champion for the team.
After his two-year sabbatical in '10 and '11, the Ice Man suited up for Lotus for two seasons and 37 races, winning twice. He has driven for his current employer Alfa Romeo for a total of 31 times.
Besides most starts, Raikkonen also holds the record for most grand prix finishes, a record he has held since the Hungarian Grand Prix. The 2007 world champion now has 253 race finishes, eight more than second-placed Fernando Alonso at 245.
Vettel passes another milestone in Russia
In the midst of a very difficult season, Sebastian Vettel has passed yet another milestone in F1 by starting his 250th grand prix.
Vettel is the 10th driver in F1 history to pass this milestone and the third on the current grid after Raikkonen and Lewis Hamilton.
While it might get lost in the midst of Hamilton's dominance in the turbo-hybrid era, Vettel is one of the most decorated drivers in F1 history. He has the third-most wins in the sport and the joint fourth-most championships, for example.
The first of his 250 races was for BMW Sauber the '07 United States Grand Prix, his only race for the team before joining Toro Rosso for the back-end of the year. 25 races later, including his famous maiden victory in Monza, he moved to Red Bull for '09.
He represented Red Bull 113 times, winning 38 races and four consecutive titles before joining Ferrari in '15. He has 111 starts and 14 wins for the Scuderia. Vettel will join Aston Martin for the '21 season.
Mercedes continue devastating dominance in Russia
Since its inception in '14, Mercedes has won every single Russian Grand Prix, a streak they continued on Sunday with Valtteri Bottas taking the chequered flag for the Silver Arrows.
While Ferrari has managed to take pole position twice, the Italians never managed to translate it into a win with Bottas, Hamilton and Nico Rosberg the only drivers to win at the Sochi Autodrom.
Bottas took his maiden victory in Russia in '17 and doubled up in '20, but Hamilton has won the event on more than any other driver, topping the podium four times.
How long can Mercedes keep up their perfect streak in Russia?
Verstappen excels at historically bad track for Red Bull
Coming into the weekend, no Red Bull driver had ever qualified or finished in the top three at the Sochi Autodrom.
Of course, with the form he has shown throughout '20, Max Verstappen managed break both ducks on Saturday and Sunday respectively.
The Dutchman impressively split the two Mercedes in qualifying to take second place on the grid in what he dubbed one of his best qualifying laps ever.
Verstappen then followed that up with a mature drive on Sunday, capitalising on Hamilton's 10-second time penalty to take second place behind race winner Valtteri Bottas.
Even at a historically bad track for Red Bull, Verstappen still manages to challenge at the very top.
Before you go…
Hamilton has penalty points removed following FIA stewards review
Stroll berates "very sloppy" Leclerc, "ridiculous" he avoided penalty