Mercedes' Lewis Hamilton is in danger of facing a race ban in Formula 1 after collecting two more penalty points on his racing super license during the Russian Grand Prix.
Hamilton collected a penalty point – and a five-second time penalty – for each of two pre-race practice starts outside of the designated area at the Sochi Autodrom, taking his 12-month tally to 10.
When a driver reaches 12 penalty points over a 12-month period, he will be banned from the next race, something which has not happened in F1 since Romain Grosjean in 2012.
The first two penalty points to come off Hamilton's license will not be until November 17, after the Turkish Grand Prix.
It means the reigning champion will have to complete four races faultlessly to avoid a race ban; the Eifel at the Nürburgring, Portuguese in Portimão, Emilia Romagna at Imola and the Turkish.
Related Articles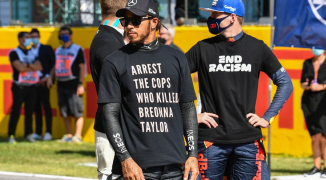 FIA take action over 'Lewis Hamilton-type' t-shirts
Hamilton braced for Russian GP "struggle" after overcoming qualifying "panic"
The time penalties ruled Hamilton out of contention for a Russian Grand Prix win, and to equal Michael Schumacher's win record as he finished in third place, with team-mate Valtteri Bottas taking the chequered flag.
How did Hamilton receive his penalty points?
The oldest infringement on Hamilton's racing license dates back to the 2019 Brazilian Grand Prix when he collided with Alex Albon's Red Bull late on.
Hamilton acknowledged he was the culprit for the incident and received a five-second penalty, which demoted him from third to seventh, as well as two penalty points.
The opening race weekend of this season in Austrian saw Hamilton collect a further four points.
The 35-year-old initially failed to slow under yellow flags in qualifying, collecting two penalty points and a three-place grid penalty.
During the race, Hamilton collided with Albon again, resulting in a further five-second time, and two more penalty points.
The most recent incident came during the dramatic Italian Grand Prix. When Kevin Magnussen's Haas was parked in front of the pitlane and it was subsequently closed, Hamilton still entered for a new set of tyres. A 10-second stop-and-go penalty and two penalty points followed, taking his total up to eight.
With Sunday's double infringement it leaves Hamilton on 10 penalty points in total, he will now have to tread very carefully in the upcoming races as he continues his charge for his seventh F1 title.
Before you go…
Hamilton record bid on hold as Bottas claims Russian GP victory