Carlos Sainz has apologised to McLaren after causing what he feels was "unnecessary stress" following his practice crash ahead of the Russian Grand Prix.
After 35 minutes of FP1 at the Sochi Autodrom, Sainz lost the rear of his car turning into the sharp Turn 7 right-hander, ploughing backwards into a barrier, leading to him sitting out the rest of the session.
The accident resulted in damage to the crash structure, forcing McLaren into a lengthy change of the entire rear axle, but proving beneficial as the Spaniard finished FP2 fourth quickest behind Mercedes pair Valtteri Bottas and Lewis Hamilton and Renault's Daniel Ricciardo.
"Everything okay, thank God," expressed Sainz. "The mechanics did a great job to get everything ready for FP2, so very happy with that, but some apologies there for the team for causing them unnecessary stress after finding myself in the wall.
"The track was particularly dirty there and I think it caught a few by surprise, but then in free practice two, we could get back to business and complete a good session.
Related Articles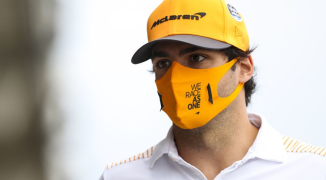 Sainz suggests one-off reverse grid race to satisfy curiosity
Drivers set for talks to avoid repeat of Mugello madness
"I'm happy to have recovered lost time and be decently quick in FP2. We still have some balance issues to solve but in general, I'm happy."
With Ricciardo directly ahead of him on the timesheet and Racing Point's Sergio Perez immediately behind fifth-placed team-mate Lando Norris, Sainz is wary of the threat being posed by both teams as the battle for third place in the constructors' championship intensifies.
"We're a bit worried with the Racing Point and the Renault as always. They look like the strongest cars at the moment," assessed Sainz.
"They [Renault] definitely seem to have had the edge over us over the last couple of races, especially on Fridays they tend to be very, very quick, so hopefully we can beat them to it, but in general I would say they look a bit stronger.
"We have to be positive. but if we get it together then we can have a good quali tomorrow."
Norris, meanwhile, feels that after a day primarily testing new parts, it is now a case of working through the data to define what works and ensure the car is in the best place for the weekend.
"We have a couple of newer bits this weekend so pretty much all of P1 was testing the bits back to back and doing the aero work," said Norris. "So not a straightforward day, not as clean as what I would have liked.
"I think we ended the day reasonably well, we ended with a good car, and myself, the engineers, the aero guys will go over everything and try and put all the best bits on the car for tomorrow.
"It was a good day in terms of understanding things and the development, but not the best in terms of how clean it was."
Before you go…
Hamilton believes F1 rivals will feel wounded by gap to Mercedes
Red Bull "in the fight" after day of downforce trials – Verstappen