LMP2 class winner of the Le Mans 24 Hours Paul Di Resta says the race "has not been the same" without fans and hopes to see spectators return in record numbers for the 2021 running.
Di Resta watched on helplessly from the garage in the closing stages as team-mate Phil Hanson was involved in a tense battle with the Jota of Anthony Davidson.
The United Autosport entry had looked confortable in position until Hanson was forced to pit for a 'splash and dash' with 20 minutes remaining on the clock.
The stop dropped Hanson behind Davidson but, when the Jota driver was also forced into the pits, the win was secured.
Although delighted with the result, Di Resta said it was strange to be celebrating in front of empty grandstands.
Related Articles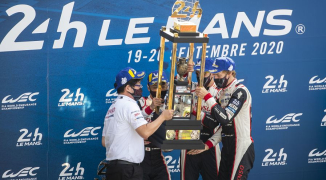 "We get to keep the trophy now" – Buemi after third Le Mans win
Toyota wins third consecutive 24 Hours of Le Mans
"I think the most important thing is the event went ahead because it shows of the stability the teams," said Di Resta.
"But this has not been the same event without fans. I hope they come back and double their numbers next year because it's a pretty special event, even to see it without the atmosphere. But somehow, you just want to see the grandstands full.
"It's tough times at the moment but we miss them all and I think we want to see them back at every sporting event and this is one of them."
The fuel difficulties had been caused by a late safety car period that ended sooner than the United Autosports garage would have liked, meaning the fuel consumption was higher than expected.
Following his stressful closing stint of the race, Hanson added: "It was difficult to judge the gap behind because the safety car inflates the times," the young Briton said.
"So once everything went green, we realised we didn't have the margin we thought. So it was suddenly a case of wondering, working out whether if we pitted and they didn't have to whether they were going to come out in front.
"So the last two laps we had to push like crazy to make sure we stayed out in front. But we did and it worked well."
Before you go…
Toyota wins third consecutive 24 Hours of Le Mans
Perfect time for Renault-Alpine name swap with upcoming regulation changes