Sebastian Vettel believes Formula 1 would have failed in its efforts to produce more competitive racing if it opts to introduce reverse grids.
F1's managing director motorsports Ross Brawn recently stated he is eager to discuss again the idea of reverse grid races after being encouraged by what he witnessed during the Italian Grand Prix.
On that occasion, the field was shaken up by a red flag, while Lewis Hamilton was forced to battle his way through the pack after dropping to last following a stop-go penalty.
Four-time champion Vettel, however, has slated the idea as "completely wrong" for F1.
"If you are pushing in that direction, it's a testimony that you failed to come up with regulations and tools that bring the field more together and make racing better on track," said the Ferrari driver who will be heading to Aston Martin next season.
Related Articles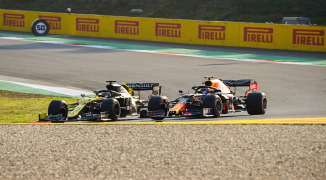 Horner hails Albon "Mr Around-the-outside" after Mugello fightback
Multi-car collision behind safety car "worrying" – Brawn
"As a reminder, we had new front-wing regulations which cost everybody a fortune but ultimately hadn't changed much in terms of racing, so I think it would be wrong."
Vettel feels F1 should at least wait to see what transpires with the new regulations due to be introduced from 2022 when it is hoped the racing will be far closer than it is now, and with finances on a more level playing field between the teams.
Vettel added: "The hopes are on 2022, I guess, on the regulation changes. I think we need to fix that and address the main points rather than trying to play the lottery. I think it's just against the element of sport and competition.
"So as a competitor, as much as I don't like other people to win, I have to accept if other people do win or do a better job. And, therefore, I think it would be wrong in the name of sport to try and mix things up that way."
Before you go…
Grosjean suffered "one of the biggest fears" of his F1 career
Frustrated Norris urges McLaren to get on top of "sensitive" car issues