Valtteri Bottas left Mugello on Sunday night staring at a 55-point chasm to Mercedes team-mate Lewis Hamilton who had again stolen the show with his victory in the Tuscan Grand Prix.
It was another harrowing tale of what might have been for Bottas after he had dominated from first practice through to the start of Q2, only to see Hamilton take control – as has happened over-and-over again – and stamp his authority on the weekend.
With Bottas already signed on for 2021, we ask: did Mercedes blink too fast?
Qualifying performance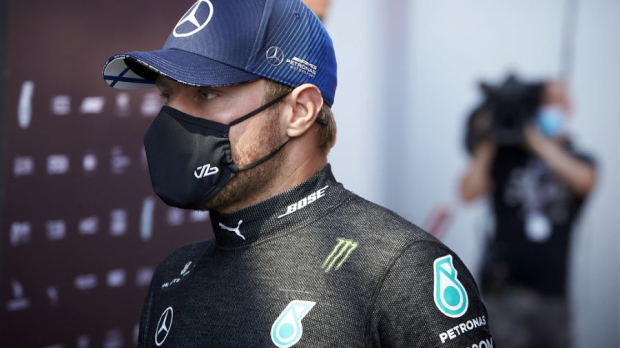 Bottas started the season in the best possible way, taking pole for the Austrian Grand Prix. Since then, the Finn has only managed the feat on one further occasion – at the 70th Anniversary Grand Prix – and is 0.275secs slower than Hamilton on average across all Q3 sessions this year to date.
A 1.4s deficit in the wet at the Styrian Grand Prix was nothing short of a disaster, while a half-a-second gap with no diminishing circumstances in Belgium equally as concerning.
Counteract that with the fact Hamilton is arguably the greatest qualifier in F1 history, then the job Bottas has done to be within one-tenth on three occasions must at least be seen as commendable.
Race performance
Bottas' race performances are where the doubts start to creep in. He managed to convert one of his two poles into a win, coincidentally when Hamilton had to fight back from a grid drop in Austria.
But poor starts have plagued his season, with places lost costing him time in Styria, Hungary, Spain, and worst of all Monza, ensuring he was never in the fight for the lead to begin with.
Bottas missed an open goal to capitalise on Hamilton's stop-go penalty at Monza, whilst yet another poor getaway at the restart at Mugello at the weekend quashed his hopes of taking victory when he had the six-time F1 champion in his crosshairs.
On the other hand, whenever Bottas has been in a good position, bad luck has fallen his way. At both Silverstone races, tyre issues cost him valuable points.
A blow-out in race one left him pointless from second whilst wear issues dropped him from first to third in race two. You have to feel luck must go his way eventually.
Red Bull conundrum
Why should Mercedes keep Bottas then?
Since the beginning of 2019, when Daniel Ricciardo left for Renault, Red Bull has had a solitary challenger trying to disrupt Mercedes stranglehold on the sport – Max Verstappen.
For the first half of last season, Pierre Gasly was unable to put his car anywhere near Verstappen during a race weekend, eradicating Red Bull's ability to implement punchy strategies to catch the Silver Arrows off guard.
Alex Albon was brought in to try and succeed where Gasly had failed, but not until Mugello did we see him step onto the podium. Twice he was spun out of the top three – ironically after clashes with Hamilton – but even so, being in the podium mix in three races since Belgium last year isn't really good enough.
The point is, Bottas consistently delivers podiums for a team that has won every single drivers' and constructors' championship since 2014 and is mostly up to speed with his team-mate. Why would you change a successful formula? After all, after Hungary 2018 team boss Toto Wolff described him as a "sensational wingman."
Mercedes junior driver George Russell, who was widely tipped to take over Bottas' seat in 2021, has been impressive so far this season with Williams, dragging the car into Q2 on multiple occasions.
Russell is still yet to be out-qualified by a team-mate in his short career, with Nicholas Latifi and Robert Kubica unable to topple him – even with an excursion through the gravel last weekend.
But is Russell ready? Some may point towards Charles Leclerc's rise to Ferrari in recent years – a valid argument. However, Russell will be distraught at failing to score this season given the opportunities on offer.
Mistakes, such as his off at the Styrian Grand Prix, will have aggravated Russell and the timing of the red flag at Mugello would have stung all night long.
Bottas, though, will be wary of the threat posed to his seat heading into 2022, especially as the Briton's contract with Williams expires at the end of next year. After what will be three seasons, he will feel he has served his apprenticeship.
The difficulty of beating Hamilton
As Bottas remarked in Sunday"s post-race press conference, Hamilton was "flawless", as is often the case.
Nico Rosberg took three seasons in the V6-hybrid era to get the best of Hamilton, before retiring instantly. It had taken Rosberg every ounce of strength he had to emerge victorious in the 2016 season.
While Bottas 2.0 last season definitely cut a more determined, edgier character, it still wasn't enough to get close, and the 3.0 version of this year must feel like it's groundhog day.
As Ross Brawn eluded to in his latest Formula 1 column, the Mugello loss will have "hurt" and left him asking himself "what does he need to do to get the better of his team-mate?"
That is exactly the question. What do you have to do when you are driving at the highest level and it still doesn't fall your way?
It led to Red Bull team principal Christian Horner recently suggesting that Bottas' job was being made that much harder by his assessment that Mercedes was favouring Hamilton. That did not go down too well with Toto Wolff.
In his time so far at Mercedes, Bottas has four poles, eight wins, 13 podiums and three top-three championship finishes.
While it may not be a bad record, and there is no doubt that he is a quality racing driver, you have to wonder whether Mercedes made the right call in retaining his services.
There was the option of Sebastian Vettel, and while not in possession of a crystal ball, Sergio Perez is now on the market.
The bottom line is, with the one exception of Verstappen, it is unlikely that no matter who is Hamilton's team-mate, they would struggle to match the Briton, as Bottas has continually discovered.
You get the feeling, though, that unless he morphs into a version of 'Rosberg '16' for next year that it will be his last, certainly with Russell sniping for the promotion he has long craved.
Before you go…
Reverse grid races would be a sign F1 has failed – Vettel
Grosjean suffered "one of the biggest fears" of his F1 career