Williams driver George Russell has slated as "unacceptable" the stop-start chaos behind the safety car that played a part in the Tuscan Grand Prix pile-up on Sunday.
Russell has been left unhappy by what unfolded at Mugello that resulted in the crash that accounted for team-mate Nicholas Latifi, along with McLaren's Carlos Sainz, Antonio Giovinazzi in his Alfa Romeo and Haas driver Kevin Magnussen.
Following an investigation by the stewards, they concluded "that the root cause of this incident was the inconsistent application of throttle and brake, from the final corner along the pit straight" by a dozen drivers – that included Russell.
Despite the assertion by the stewards, Russell said: "This stopping and starting, it's unacceptable."
Like Lewis Hamilton and Valtteri Bottas, Russell also blamed the late switch off of the lights on top of the safety car.
Related Articles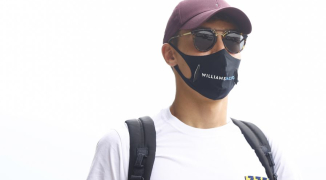 "I was driving my heart out" – Disconsolate Russell misses out on first points
Williams "surprise" Russell's gravel trip "wasn't a lap-ruining mistake"
"It [the crash] could've been avoided if the safety car had turned its lights off earlier," added Russell.
"I don't know why but this year the safety car has been turning its light off so late, which forces the lead driver to delay his restart because he can't get a run around the last corner. And that's the whole issue.
"It was sort of inevitable. I saw people going quicker around the last corner, then slow down, accelerate and slow down again. I was very lucky to miss the incident."
Russell, who finished just outside the points in 11th, further explained how he escaped the carnage that unfolded just behind him.
"As soon as everyone braked, I looked in my mirrors," added Russell. "I saw a little bit of chaos and I just put my foot down again to avoid it.
"It was almost like when you pull up to a traffic jam on the motorway, sort of looking in your mirrors to see if the car behind hasn't noticed and be ready to put your foot down and avoid if he's going to crash into the back of you.
"So it's carnage and it can be resolved."
Before you go…
'The Bend' a fall-back option for F1 for 2021 Australian Grand Prix?
Alfa Romeo "dug deep" after suffering "big blows" at Mugello