Red Bull team principal Christian Horner paid tribute to Alex Albon's resolve following a scintillating overtaking display that earned him his first podium in Formula 1.
Albon started fourth but dropped behind Charles Leclerc, Daniel Ricciardo and Lance Stroll on the opening lap and seemed to struggle for pace during the early stages of the race.
The Thai-British driver produced a strong fightback which included some breathtaking moves at turn one to help secure his long-awaited top-three finish.
"I'm really pleased for him because he has weathered a bit of criticism," said Horner via Sky Sports F1.
"To be fair, the last couple of weekends, he has been getting stronger and stronger and for him to get that podium, he had to really fight for it, he had to do it the hard way. The starts were pretty horrible, but he is 'Mr Around-the-outside'."
Related Articles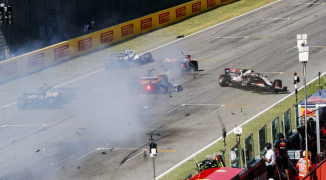 Multi-car collision behind safety car "worrying" – Brawn
No excuses from Camilleri with Ferrari "in a hole"
To move into the podium positions, Albon needed to find a way past former Red Bull driver Daniel Ricciardo.
The Australian is recognised as one of the hardest racers on the grid, but Albon produced a move straight out of Ricciardo's play book to secure the silverware.
"He is really impressive," added Horner. "We see it time and again with him that his placement of the car is very, very good.
"Daniel is a hard guy to pass and to make that move around the outside and make it stick, all credit to him."
Crediting Albon with maturing development since joining Red Bull last summer, Horner said: "His feedback is very, very good.
"He has a really good sensitivity with the car and I think he has won the respect of the engineers with that so as that is now starting to come through, the developments are starting to come. It will only help him."
Before you go…
"Unacceptable" to stop and start behind safety car – Russell
'The Bend' a fall-back option for F1 for 2021 Australian Grand Prix?