Romain Grosjean has claimed he faced his greatest fear in motorsport as he waited to be struck from behind during the horrific safety car restart collision.
The Haas driver found himself caught in the middle of the chaos as team-mate Kevin Magnussen, Carlos Sainz, Nicholas Latifi and Antonio Giovinazzi all retired as a pile-up ensued.
Describing his experience of the mayhem from the cockpit, Grosjean said: "Obviously, I think I had one of the biggest fears of my career in the first restart because I saw things happening.
"I had really good momentum so I went on the left, and then I saw one Renault slowing down. I actually slowed down myself before everyone did and then I saw Kevin almost flying over me and I was afraid that behind they would hit me.
"That wasn't a good moment."
Related Articles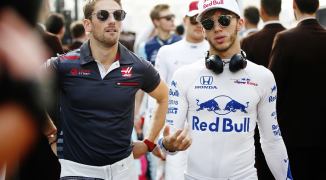 Grosjean "jealous" of fellow Frenchman Gasly's Monza victory
Haas has "close to 10" drivers on 2021 shortlist
The safety car period had been caused after a lap-one collision involving the ailing Max Verstappen, Italian Grand Prix winner Pierre Gasly, Alfa Romeo driver Kimi Raikkonen and Grosjean.
Fearing his race was over, Grosjean revealed he had switched off his car and was preparing to get out before realising the damage to his VF20 was less than he had expected.
"I got badly hit in turn one or turn two," said Grosjean. "I was doing a good start and looking at how much damage we had and what the pace was. I think we had a good car in our hands.
"From switching off the car ready to retire on lap one to restarting it and going again and doing two red flags, three restarts, it was quite interesting."
Grosjean crossed the line last of the 12 cars to finish, leaving him as one of only three drivers still without a point for this season alongside Williams duo George Russell and Nicholas Latifi.
"At the last restart things really went well and I could overtake the two Ferraris and the Williams and [was] fighting up there, but we were missing about two seconds of performance on the car that we could measure," revealed Grosjean.
"Happy we finished the race, and we were hoping there would be only 10 cars at the end so we would be the 10th one but there were 12 so sadly we were P12."
Before you go…
Frustrated Norris urges McLaren to get on top of "sensitive" car issues
Horner hails Albon "Mr Around-the-outside" after Mugello fightback