Lando Norris has called on McLaren to get to grips with a car he feels is proving tricky to master.
Just a week after the team celebrated its best result for six and a half years at the Italian Grand Prix, with Carlos Sainz second and Norris fourth, McLaren struggled with the MCL35 across the weekend at Mugello.
Sainz and Norris could only qualify ninth and 11th respectively, with the British driver failing to reach the top-10 shoot-out for the first time in 16 races in a car he claims is over-sensitive to track and atmospheric changes.
"It [the car] was very difficult," said Norris. "We've got a lot of work to do with the car even though some races we've been very fast.
"But it seems so sensitive to different conditions and track surfaces and so on and it makes our life a lot more difficult.
Related Articles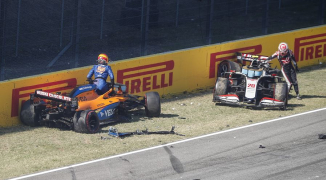 Formula 1 must learn from "really scary" Tuscan GP restart crash – Sainz
Formula 1 teams issued warning over "stockpiling" plans
"We came here [to Mugello] thinking we were going to be pretty quick and had a lot of confidence and it went away pretty much straight away. "We have to understand this car a bit more even though we've had it for a while and we've had some good results.
"F1 cars are not easy to figure out, and from my side, the mechanics and the engineers will have to continue to try to push and do even better."
The race itself was every bit as chaotic as the preceding one at Monza, with Norris explaining the two red-flag periods only served to add to the issues in the race.
"It's difficult with the red flags because you are so in the zone, especially on this track because it is so physical on the body," added Norris.
"You're having to concentrate so much, and as soon as you lose focus you can so easily make a mistake.
"With all the stoppages and going back to the garage and sitting there for 10-20 minutes, it's not easy to get back into that zone on that first lap [when] you are racing again, nail everything to get a perfect race.
"It was tricky, and even from the management of the tyres, managing with the car, it was very difficult to drive."
Before you go…
Horner hails Albon "Mr Around-the-outside" after Mugello fightback
"Unacceptable" to stop and start behind safety car – Russell