Max Verstappen has revealed to ignoring the hopes of Red Bull team boss Christian Horner and advisor Helmut Marko over the 'party' mode ban in order to avoid personal disappointment.
The FIA is understood to have introduced the abolition of the mode on the back of complaints from Red Bull in the belief it would slow down Mercedes in qualifying.
Horner and Marko had both expressed hope the new technical directive would lead to Verstappen and team-mate Alex Albon pulling closer to Lewis Hamilton and Valtteri Bottas.
In reality, following qualifying for the Italian Grand Prix at Monza, Red Bull's Honda power unit was again no match for Mercedes, with Verstappen only qualifying fifth, his lowest grid slot of the season, and Albon ninth.
Asked whether it was frustrating to have to backpedal on statements from Red Bull management, Verstappen replied: "I just follow my own view on that when I come into a weekend. I try to do the best I can.
Related Articles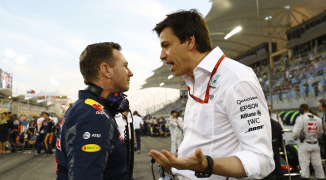 Wolff and Horner in dispute over Hamilton favouritism claim
Horner and Abiteboul renew old war-of-words rivalry
"Anyone can, of course, say whatever they want, but I always learned from a very young age that you have to be a realistic person.
"Maybe that sometimes sounds a bit depressing, but for me, it works the best way because you will not end up after qualifying being disappointed because you know exactly where you're going to be."
Verstappen, though, believes the full effects of the ban have yet to be realised given the specific nature of Monza as a high-speed, low-downforce circuit.
"Personally, I don't think we went backwards," insisted Verstappen. "This is also a bit of a tricky track to see the full benefit or differences because [at] Monza everybody's in the tow, some have a better tow than others.
"I think we have to wait a little where we go to a track again where nobody wants a tow, where you want to drive in clean air.
"So it's a bit early to say anything about that. I never expected it to be very different but some other people were shouting some different words. It is what it is.
"As you can see, it didn't really shake up anything but I also didn't expect that."
The Dutchman also did not hope to challenge Mercedes anyway at a circuit where Red Bull has yet to score a podium in the turbo-hybrid era.
"I expected it to be very difficult," insisted Verstappen. "I never expected to fight Mercedes there.
"I was very interested to see how our car was going to go on low downforce but I think it highlighted our issues the whole year, that it's not really a very fast car."
Before you go…
"Surprised" Perez confident of ending two-year podium drought
Russell slates "ridiculous" Q1 that resembled "Indy 500 re-start"