Formula 1 managing director motorsports Ross Brawn has suggested the cooler Belgian conditions may have played a role in Ferrari's "horrific" weekend.
One year on from a dominant lights-to-flag victory for Charles Leclerc, Ferrari started and finished the Belgian Grand Prix in 13th and 14th positions.
The team spent the race embarrassingly battling power unit customer teams Haas and Alfa Romeo and suffered further indignation by finishing behind the Alfa of Kimi Raikkonen.
Much has been made of the fact Ferrari entered into a secret arrangement with the FIA over the winter after the governing body failed to find conclusive proof of wrongdoing with the team's 2019 power unit.
But technical directives issued by the FIA regarding fuel flow and oil-burning late last season now appear to have hurt Ferrari immeasurably more than its rivals.
Related Articles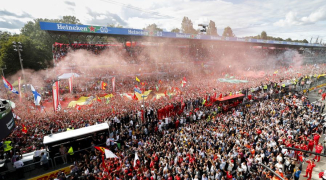 "Suffering" Tifosi would not boo Ferrari at Monza if allowed in – Vettel
Ferrari "need a very big step" with 2021 engine – Sainz
Brawn, however, believes the problems cannot be solely due to one single factor.
"Regardless of what people say about the deficit they may have with the engine following the technical clarifications, you don't lose 1.3s per lap from one year to next in that metric alone," Brawn wrote in his post-race column.
"They just couldn't get the tyres in the zone. The fact it was colder at Spa would not have helped either.
"When that happens, the performance drops off and looks horrific. If they can make that step and get the tyres working properly again, I think the performance will snap back in. They still won't look race-winning, but it will become more respectable."
He added: "I've been in a situation like Ferrari have found themselves in at Spa, where you don't get tyres to work, the temperature doesn't come and the drop off in performance is dramatic."
McLaren driver Carlos Sainz, who is to join Ferrari next season, has expressed concern that the Scuderia will "need a very big step" with its power unit if he is to enjoy 2021.
Brawn feels the Spaniard may now start to be feeling anxious over his switch from McLaren.
"This has been a tough year for him, but he's a pretty positive guy," added Brawn.
"He's a very strong character, his career has been no easy ride after all. I've always rated him, I think he's a great driver and he'll manage this situation.
"But what looked like a dream move to Ferrari next year isn't looking too good right now and inevitably, he must be nervous about his prospects next season."
Before you go…
Bottas: I'd rather stay at home than throw in the towel
"Suffering" Tifosi would not boo Ferrari at Monza if allowed in – Vettel