Formula 1 race director Michael Masi has said the FIA is looking into why a wheel tether failed on the Alfa Romeo of Antonio Giovinazzi during a heaving crash at the Belgian Grand Prix.
In 1998, Formula 1 introduced mandatory wheel tethers that would attach wheels to the chassis and prevent them from breaking away in the event of an accident.
In 2011, double tethers were introduced, followed by triple in 2018, yet during the race at Spa, Giovinazzi's rear-left wheel separated from his C39, bounced back onto the track and struck the Williams of George Russell.
Speaking about the situation after the race, Masi said: "Yes it is a concern.
"Why it became detached I am not 100 per cent sure, but immediately once the car came back to the drop-off area, our technical teams had already started their investigation, taking a number of photos and we've got all the available footage.
Related Articles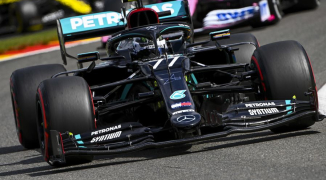 Bottas: "I don't recall" being told not to race Hamilton before Belgian GP
Victorious Hamilton nervous he was going to suffer "another Silverstone"
"The technical department, together with the safety department, will investigate why [this happened]."
Despite the unusual occurrence, Masi insists the FIA will not treat it any differently to other accidents, all of which are investigated thoroughly to pinpoint both the cause and to ascertain whether increased safety measures could have prevented the incident from happening in the first place.
"From the FIA perspective, whenever an incident occurs it is always something that we look at and ways that we can improve any circuit, so I don't think it is just a Spa matter, it's every single incident and seeing what improvements can be made," asserted Masi.
"The way that I put it is safety is something that is alive. It's not a start and finish. It's something that is always improving, something that you can always learn from and find ways of making improvements.
"So you can always look at it from that perspective and go from there."
With the large amount of debris that littered the track, there were legitimate concerns Masi could have elected to red flag the race to allow the clean-up operation to take place.
However, Masi ruled there was no need for such a course of action and praised the marshals for enabling him to keep the race going, albeit behind the safety car.
Masi concluded: "It wasn't necessary to have a red flag. A red flag is one of many tools available to the race director, as is the safety car and a virtual safety car.
"The marshals did a great job clearing a path through in the first instance quite quickly, and that was the number of cars that were in front of the safety car, and once the safety car line went through there was a very clear path through there.
"In my view, a red flag was not necessary."
Before you go…
F1 and FIA warned to sort "dangerous" slow laps or face the consequences
Hamilton: If I was an F1 fan now I'd only watch the highlights