Carlos Sainz believes Ferrari will need "a very big step" in engine performance if it is to be competitive in 2021.
Sainz has frequently brushed away questions as to whether he has any regrets over his decision to leave McLaren at the end of this year to join the struggling Scuderia.
Ferrari's wretched performance over the course of the Belgian Grand Prix notably highlighted the issues Sainz will be faced with next season given the stability in the regulations, with the team producing its worst two-car finish for a decade.
"I think clearly Ferrari is the first one that is not happy right now," said Sainz. "I think you could see clearly how much they struggled, but I think they have struggled with a bit more than [just] the engine," said Sainz.
"I think they had some problems with the overall grip of the car, but in general I would say yes, they need a very big step on the engine coming."
Related Articles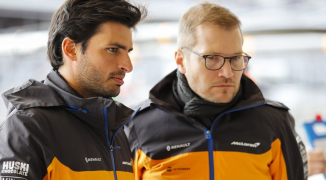 Second successive Belgian DNS "difficult for Carlos to take" – Seidl
Venting frustration will get Ferrari nowhere – Vettel
Since the introduction of the V6 turbo-hybrid power units in 2014, Mercedes has been the benchmark manufacturer.
Ferrari appeared to have overtaken its German rivals in 2019, but following an FIA investigation that could not conclusively prove any wrongdoing, the Scuderia has dropped to the bottom of the speed traps.
Over the past two years, Renault and Honda have made strides with both the reliability and power output of its units, and Sainz is aware the road to improvement could be a long one for his new employers.
Sainz is, however, confident the journey is one Ferrari is capable of completing.
"I know how tough it is because it took Renault a few years," added Sainz. "It's taken Honda quite a long time also, but the fact that they are nearly there, or this Renault is nearly there [and is] close to Mercedes shows that you can do it.
"For me, if there is a team with facilities, if there is a team with resources, if there is a team with a lot of engine benches to try to improve, that is Ferrari.
"I'm sure the factory now is working flat-out and hopefully by the time I get there they have improved a bit and together we can make the next step."
Before you go…
FIA to investigate 'concerning' Giovinazzi loose wheel
F1 and FIA warned to sort "dangerous" slow laps or face the consequences