Valtteri Bottas is refusing to give up the fight for this year's Formula 1 world title despite Mercedes team-mate Lewis Hamilton again stretching his advantage over the Finn following the Belgian Grand Prix.
Since winning the season-opening race in Austria, Bottas has been steamrollered by Hamilton who has won five of the past six races and finished second in the other, with a 50-point gap now between the pair.
It is fast becoming a case of when, and not if, Hamilton will clinch his seventh championship and equal Michael Schumacher's record.
Bottas, who could have been 18 points closer to Hamilton but for his late puncture in the British Grand Prix, is adamant he will continue to do all he can to give the Briton a hard time.
"Of course, I'm trying everything I can," said Bottas. "The fact is that it's not over. There are 10 races. Obviously I had that one kind of a DNF with a puncture at Silverstone [and I] lost points with that.
Related Articles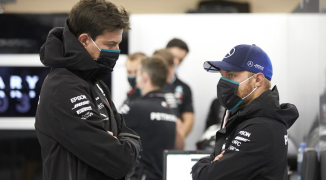 Wolff clarifies Mercedes rules of engagement after Bottas "miscommunication"
Role model Hamilton thriving on "craziness" and "tragedies" – Wolff
"If I would give up now then I would rather stay home, so I will keep pushing, I will still keep trying to find anything from myself that I can and it just really is trying to perfect everything."
Bottas feels it is over the course of a lap on a Saturday afternoon that is the fundamental difference between himself and Hamilton, who has scored five poles to the two of his team-mate this season.
"I'm trying but there are still many positives I can take," added Bottas. "I feel my race pace this year has been better than any year before, so that's a positive.
"I feel like always in the race I'm there and I can fight for it, so now it's just about trying to perform better and more consistently in qualifying sessions."
Before you go…
"Suffering" Tifosi would not boo Ferrari at Monza if allowed in – Vettel