Red Bull team principal Christian Horner has said the updates on the RB16 for the British Grand Prix are as a direct result of the feedback from the last race in Hungary.
Max Verstappen and Alex Albon finished second and fifth respectively at the Hungaroring, but the result papered over the cracks visible throughout the weekend
Both drivers complained about the car being difficult to drive and televised moments of snap oversteer across the weekend backed up these claims.
"I think that all the data that has come off the car, the factory has been working incredibly long hours, so components that are on the car this weekend are a direct reaction to what we saw in the data and from the feedback we had in Hungary," said Horner.
"And I think some of the philosophy at the front of the car changed over the winter and it's given some anomalies that we need to understand.
Related Articles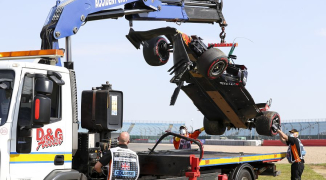 Albon finally "hooked up" with Red Bull despite "tank-slapper" crash
Verstappen fears Red Bull won't challenge Mercedes before 2021
"The team collectively has worked incredibly well to start to understand those issues and hopefully the parts we have brought here this weekend will start to address some of those issues."
Labelling Mercedes' Lewis Hamilton as the "favourite" to take the victory on Sunday – a win that would take his British Grand Prix haul to seven – Horner added the entire Red Bull team is working flat out to close the considerable gap enjoyed by the German manufacturer.
"I think all the things that we know from the first couple of races is that Mercedes do have quite a significant advantage and we're working as hard as we can to reduce that but they only match their pace to the cars that are behind," added Horner.
"I still think they have quite a lot in hand which is what you see when Bottas is chasing to catch Max over those last few laps.
"It's only then that you see their true pace whereas Lewis, for the last couple of races, has definitely been pacing himself so as not to stress his car unnecessarily."
Before you go…
Bottas serves qualifying notice by taking final practice honours ahead of Hamilton
Leclerc refuses to point finger of blame for Ferrari failings