McLaren team principal Andreas Seidl has conclusively ruled out the possibility of Fernando Alonso returning to the team as a reserve driver should either Lando Norris or Carlos Sainz test positive for Covid-19.
Racing Point driver Sergio Perez returned a positive test on Thursday, sidelining him for this weekend's British Grand Prix, with Nico Hülkenberg stepping in as a replacement.
Should the situation arise where McLaren requires a reserve, the team will not be turning to the man who drove for the team for four seasons before opting to retire from F1 in 2018, and who is currently preparing for his third attempt at winning the Indianapolis 500.
Asked about Alonso, who returns to F1 next season with Renault, Seidl said: "No. Fernando is not in discussion regarding a reserve drive role on our side, and I think also the Indy programme kicks off now."
McLaren and Racing Point both share reserve drivers Stoffel Vandoorne and Esteban Gutierrez with Mercedes.
Related Articles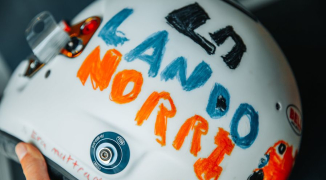 Norris to run British GP helmet designed by a six-year-old
Norris now a "miles better race driver" after adopting serious approach
Although Racing Point has turned to Hülkenburg, McLaren has no problem in adhering to its original arrangement with Mercedes.
"As we communicated before the season, we have an arrangement with Mercedes similar to what we had last year with Renault, to be able to have access to Stoffel and Esteban in case we have the need for a reserve driver," added Seidl.
"We are obviously prepared for that. We did seat fits with both guys and a short simulator session in order to be ready to go, because the worst case, as we know, is that can happen during a Saturday and then we need to be quick, so that is all in place."
Perez is the first confirmed case of Covid-19 within the F1 paddock since the sport's return at the beginning of July, with the only two other positive results returned by non-team personnel.
"In the end, we feel for Sergio and his close contacts and everyone who is affected by the situation at the moment," said Seidl.
"The most important thing is he is fine and is healthy hopefully. We are looking forward to having him back in the paddock as soon as possible."
Before you go…