Fernando Alonso has been cleared to travel to the United States and compete in this year's Indy 500 after finally overcoming entry issues.
Given the Covid-19 crisis in America, Alonso had encountered a delay in obtaining the relevant paperwork, notably the P1A-Athlete visa required for "an individual athlete at an internationally recognised level of performance".
With the Indy500 looming, McLaren CEO Zak Brown has confirmed to enduring "a nerve-wracking" time waiting to hear from Alonso and whether the visa had been granted.
"It is resolved. It got resolved this week," revealed Brown. "I can tell you when I got the phone call it hadn't yet been resolved, but that's all solved now and Fernando will be in America next week."
Explaining the delay, Brown added: "To come in and perform as an athlete, there is another level [of visa] for professional athletes and that had not been granted.
Related Articles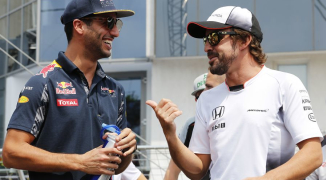 Alonso not a reserve option for McLaren – Seidl
Norris to run British GP helmet designed by a six-year-old
"You have to get that out of California, and they respond when they respond. Once he got that he then had to go to the Madrid embassy to get it improved there.
"There was never a problem, but as you can imagine, with the state of play in America right now it is a bit chaotic, so going through all those government hoops was taking some time but he now has everything he needs."
With the hurdle cleared, Brown feels McLaren and Alonso's bid to finally win the Indy500 is in a far healthier state compared to his two previous attempts, notably last year when the two-time F1 champion embarrassingly failed to even qualify.
With McLaren taking part in a full IndyCar season and running as Arrow McLaren SP, it has so far started strongly and has a base on which to build leading up to the Indy500 that takes place on August 23.
"It's a totally different environment," said Brown. "Our IndyCar team has had a strong start to the season with two podiums, we almost won in Road America, we've been strong on road courses, strong on ovals, the team is very well prepared.
"We've brought in Craig Hampson, who is recognised as arguably one of the best engineers in the sport, so I think we are much more prepared, integrating into what's now Arrow McLaren SP versus going and buying a couple of cars, being a one-car team, lacking any data, bringing everyone together for the first time.
"Well, now this is a team that's up and running with a tremendous amount of experience. It's night and day and hopefully, the results will demonstrate that as well."