Portugal is to be confirmed as part of Formula 1's latest update to its 2020 calendar, while a deal for China is close to being finalised, GPFans understands.
The Portimão circuit in the Algarve will host Portugal's first grand prix since 1996 when it last ran at Estoril, with the date set to be October 2-4.
Although the circuit opened in 2008, it has yet to stage a grand prix even though it holds the required grade 1 licence. It did hold an F1 test in 2009.
Joining Portmäo will be Mugello – as previously revealed by GPFans – with that race to go ahead on September 11-13, allowing Ferrari to celebrate its 1,000th grand prix on home soil.
An announcement is expected prior to this weekend's second race in Austria, the Styrian GP.
Related Articles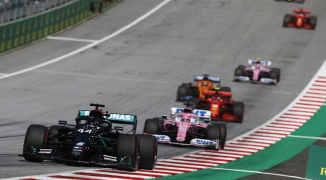 Talking points from the F1 Austrian Grand Prix
Three-place grid penalty for Hamilton after qualifying decision review
It will conclude F1's third triple-header to open this season, and will follow on from the Belgian and Italian Grands Prix the two weekends previously.
It is understood there will then be a free weekend, with the Russian Grand Prix at the Sochi Autodrom to take place on its original date of September 25-27, with the Portuguese GP a week later.
The races in between Portugal and Bahrain have proven more complex for F1 to finalise, notably due to the Covid-19 issues in the United States and Brazil.
With F1 eager to lock in events to ensure teams, partners and promoters can start planning the logistics of their races as far in advance as possible, it is now appearing likely there will be a Far East double-header.
China is almost certain to get the green light, followed by an inaugural race in Vietnam, although discussions remain ongoing, similarly with regard to the prospect of a race in Canada.
At this stage, the calendar is guaranteed a minimum of 14 races, with the possibility of it stretching to 18 if the talks currently taking place conclude favourably.
Before you go…
Mercedes electrical problems "a feature of the model"