Esteban Ocon will finally end what he has described as a "crazy" 18 months when he returns to Formula 1 this weekend.
After two seasons with Force India/Racing Point, Ocon was dumped at the end of 2018 to make way for Lance Stroll, whose father Lawrence had saved the team with his purchase earlier that year.
Ocon then spent last season on the sidelines before being picked up by Renault, with his current hiatus from F1 extended by four months given the Covid-19 pandemic.
The 23-year-old Frenchman will now get his chance with his new employers when racing returns in Austria this weekend.
"A year and a half – it's just crazy," said Ocon, whose last race was at the end of November 2018. "It seems like everything was going against me for me to restart.
Related Articles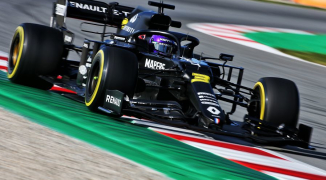 Renault confident car performance "in the bag" for F1 season start
One positive test will wipe out a team for a grand prix weekend – Abiteboul
"It's been way too long to wait. Last year was very difficult, this year is different, a different feeling.
"I'm at a great team, I've a great challenge ahead with a competitive car, and I look forward to restarting.
"I knew what I was working for, how much I wanted it, and I'm hungry to restart."
Following a recent test at the Red Bull Ring in a 2018 car, and for the team to understand and work with the new protocols in place to cope with Covid-19, Ocon insists getting back to racing will not be an issue.
"I felt good restarting in the car, it was so cool to get back to a real track after spending so much time doing esports," added Ocon.
"Going back to a real track felt awesome, going out of the garage was a special feeling after such a long time.
"It didn't take me long to get back up to pace. I felt good, I felt sharp and quick, so [I am] definitely ready to restart in Austria."
Before you go…
McLaren secures £150m loan from Bahrain bank to ease financial worries
Mercedes to run all-black livery in 2020 to combat racism and promote diversity