Bernie Ecclestone has revealed he was unaware he no longer held a position within Formula 1 until a few days ago.
Following Ecclestone's controversial comment that "in lots of cases, black people are more racist than white people are", F1 issued a damning statement in response.
While condemning former F1 supremo Ecclestone's remarks as having "no place in Formula 1 or society", it also stated his honourary role as chairman emeritus had expired in January of this year, three years after Liberty Media had taken over.
"Well, I didn't know anything about this," Ecclestone told GPFans.
"How this actually happened was that after they bought the company, and they had obviously bought my shares, Chase [Carey] called and asked to see me.
Related Articles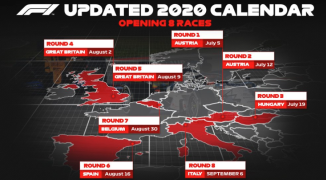 Ruthless calendar "a harsh price to pay" to get F1 back on track – Abiteboul
Mercedes objections to aero handicap based on an assumption they would win – Brawn
"I was obviously asked to step down. They'd already prepared a document for me to sign, to resign.
"They couldn't fire me because I had a three-year contract I'd drawn up years and years before for myself with the company, that I owned, so that contract was still in existence.
"It all went from there. They said they wanted to give me a very honourable position, which in America is important, the sort of thing they give to a president [of a company] when he retires.
"So they gave me that, but I didn't know it was only for a period of three years, which was the period of my contract anyway, and which, in fairness, they paid under that contract.
"But I didn't know about the period of time for this position."
Since Ecclestone was ousted three years ago he has still attended a few grands prix. It remains to be seen now whether he will continue to be welcomed in any paddock.
The 89-year-old insists he has many friends in F1 who will help him out, claiming he could even have been present at this weekend's season opener in Austria but for wife Fabiana due to give birth to their first child.
"Most of the promoters will be happy to have me in the paddock because we're friends, mates," said Ecclestone.
"For this next race in Austria, I could have gone. Dietrich [Mateschitz, Red Bull Ring owner] told me he had everything organised, the hotel, the room they used to organise for me.
"I'm going to call him and tell him I won't be there. I could have gone for a day and back but I'm not going to."
Before you go…
McLaren vows to go for its Formula 1 rivals "as hard as we can"
Restrictions forgotten once we are in the car – Raikkonen