Over 70 circuits have hosted Formula 1 grands prix, and there is a considerable split in the opinion between fans over which are the best. GPFans writers Sam Hall and Ian Parkes put their heads together and came up with their own ultimate top 10.
Circuits 10 to six were revealed on Thursday but here are the top five venues that GPFans believe to be the greatest of them all.
5. Interlagos, São Paulo, Brazil
Interlagos is the long-term host venue of the Brazilian Grand Prix. After staging seven races in eight years from 1973, the track returned in 1990 and has never left.
In the early 2000's, Brazil more often than not hosted the season finale and, as such, has numerous memories attached. Lewis Hamilton's dramatic final-corner pass to win the 2008 title; Jenson Button celebrating by singing 'We are the Champions' on his team radio, and Fernando Alonso sealing both of his titles in 2005 and 2006. In fact, from 2005 to 2009, Interlagos provided the backdrop for each title decider.
The two most iconic moments are easy. Felipe Massa standing a broken man on the podium in 2008 after winning the race, but losing the title by a single point, and Ayrton Senna winning his first Brazilian Grand Prix in 1991.
4. Suzuka, Japan
Bar a two-year break in the mid-noughties, the circuit has been the home of the Japanese Grand Prix since 1987, and it has proven to be one of the most captivating on the calendar for both drivers and fans.
It is a rare track in F1, given the penchant in recent years with new venues to incorporate vast run-off areas, as it punishes mistakes, while its unique figure-of-eight configuration, and with famous turns such as 130R and Spoon, still poses significant challenges.
Complete with its iconic Ferris wheel, it has also been the setting where 11 world champions have been crowned, arguably none more infamously in 1989 and again the following year when Ayrton Senna and Alain Prost twice collided. Prost took the title in '89, Senna gained his 'revenge' in '90.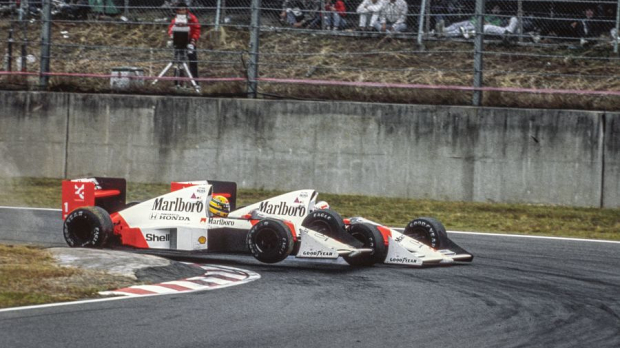 3. Autodromo Nazionale di Monza, Monza, Italy
Italy is Ferrari. Italy is passion. Italy is Formula 1.
Whether looking through rose-tinted glasses at black and white images of F1 cars from the 1950s running around the steep-banked oval section of track, or watching the fastest-ever modern cars eat up the hallowed tarmac, Monza oozes everything that is F1.
A place where loving Ferrari is not optional, it is obligatory, this high-speed cathedral is every bit as iconic as the Ferrari rosso or Senna's yellow-banded helmet. Monza may not be the trickiest track in F1, but it is the circuit to have featured most on the calendar – missing in 1980 only when the Italian round was run at Imola.
Stirling Moss leads at Monza in 1957
2. Circuit de Spa-Francorchamps, Spa, Belgium
Only Monza, Monaco and Silverstone have held more grands prix than the drivers' dream that is Spa, enchantingly set in the middle of the Ardennes, and providing a challenge like few other circuits in motorsport.
The track predominantly used country roads through its first incarnation up until 1970. It was brutally fast, but it also became increasingly dangerous and feared as the speeds of the cars increased, leading to a boycott of the '69 event as 10 deaths had occurred during the 1960s.
It was not until 1983, and following significant modifications, that Spa returned to the calendar, albeit retaining some of its renowned corners such as Eau Rouge and La Source. The downforce levels of modern-day F1 cars means the track is not as demanding as it once was, but it remains a highlight on the calendar for all drivers.
1. Nordschleife, Nürburg, Germany
The Green Hell. Over 14 miles of twisting, undulating asphalt. 160 corners, each with its own story. Five Formula 1 drivers lost their lives at this behemoth, and that number remains incredibly low when you consider the speed-first, safety-second attitude of the era when this track was a grand prix venue.
The most famous incident of all came in 1976, when Niki Lauda crashed his Ferrari, barely escaping with his life, before returning to claim two further world championship crowns.
Sadly, the race in '76 would be the last time that Formula 1 cars would compete an official grand prix around the Nordschleife, although GT cars do still frequently race on this most testing of all circuits.