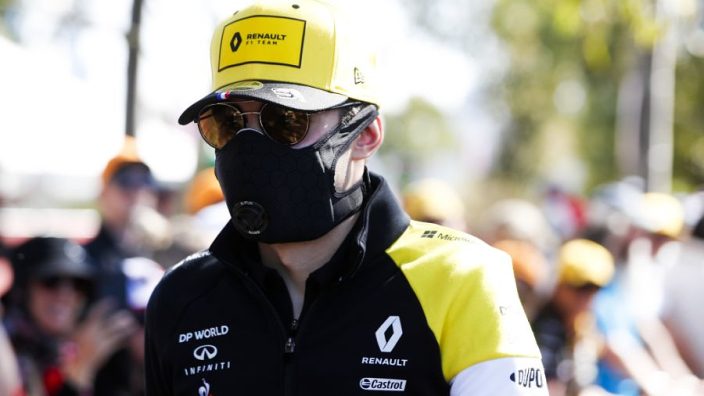 Esteban Ocon is making the most of the extended Formula 1 off-season to indulge in his second passion – remote-control cars.
While drivers from various disciplines of motorsport have taken to sim racing during the ongoing period without F1, Ocon has found himself spending more time or his off-track hobby.
"I'm doing a lot of simulator racing on Gran Turismo with some quick guys and some friends as well," Ocon wrote in his Formula1.com column. "I've been doing three hours a day before training to keep myself busy! I'm just in the house and using the area nearby for running.
"If anyone wants a race, I often post on my Instagram some information on how and when you can do that. I'm also playing with some remote-control cars, which is my second passion.
"Anything with an engine and fuel and I'm down! I've been spending some time doing that, putting new tyres on and going flat out! That's always nice. The brand of the cars I use are Kyosho, they are the best. It's a lot of fun creating your own courses with some cones and pushing these machines.
"I don't really like fixing them, but you need to do it to make sure there are no problems when you run. It's a bit like a racing car, each time you run it needs maintenance and that's the only way you don't have problems."
Ocon also explained his reasoning for wearing a mask in Australia, the Frenchman being the only driver to wear one in Melbourne after drivers were instructed not to pose for photographs with fans or to sign autographs as the effects of the coronavirus quickly began to be felt in Melbourne.
"In all honesty, I found Australia pretty strange," continued Ocon.
"I decided to wear a mask when I arrived and left the track on Thursday. It was well over 450 days since I last arrived at a race weekend in preparation for a race and I wanted to take every measure possible to not miss out, it's been too long. I've trained this whole time and I wanted to be as strong as possible.
"So I thought it would be best to be cautious with what's happening and be sensible for others. Of course, it's out of all our hands with what's going on, but I wanted to make sure I was doing all I could to be ready. I didn't want anything stopping me from racing again."