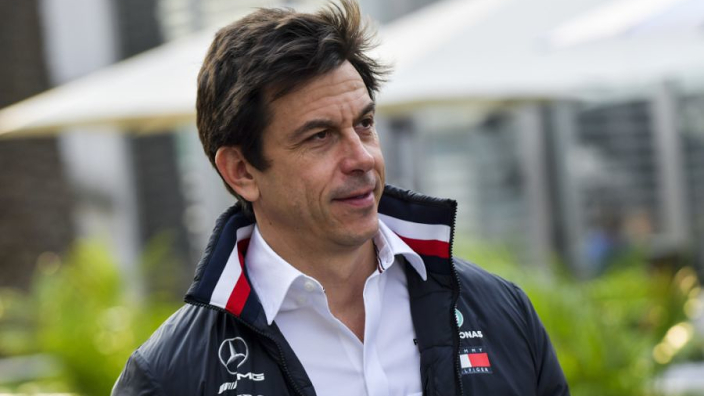 Mercedes boss Toto Wolff says that success comes from taking things a day at a time as his team begin their charge for a seventh consecutive championship double.
Half of the 2020 Formula One grid had already launched their entries for the season, although Renault and Haas have only shown digital images of the R.S.20 and the VF20 respectively, when Mercedes took the total to six by releasing digital images of the W11 early on Friday morning.
Speaking on the team YouTube account from the Silverstone pit garages, team boss Toto Wolff expressed the importance of launch day.
"It is very important for all of us because we see the machine come together for the first time and be driven out on track," said Wolff. "For me, January is always a bit of a bizarre hybrid month, because we are preparing but we are not yet going and this today is the start of the 2020 journey."
Having been able to mount successful championship assaults on both the drivers' and constructors' crowns over the past six years, Wolff reflected on what he would class as a success in 2020.
"Success is taking each step a day at a time," added Wolff. "Today, success would be that we have a good shakedown, that we clock the mileage and get the filming in so that both the drivers get a feel for the car.
"Go to Barcelona, that's the next milestone, do a solid test and get the work done, collect the data and come in good shape to Melbourne. So it's really a step by step approach. We are not looking too far ahead.
Mercedes made their Formula One return in 2010 after purchasing the title winning Brawn GP team and Wolff said that it is important to remember where the team started from and not gett too carried away with their current spell of dominance.
"It's been a fantastic ten years," said Wolff. "You can see the bold decision that was made in 2010 to go all in from being an engine supplier to having our own team. You can see still the parallels. Petronas are still our corporation partner – a big strong alliance that was on the car back then [in 2010] and is still on the car today. Who would have thought that between these two cars we would win 12-championships.