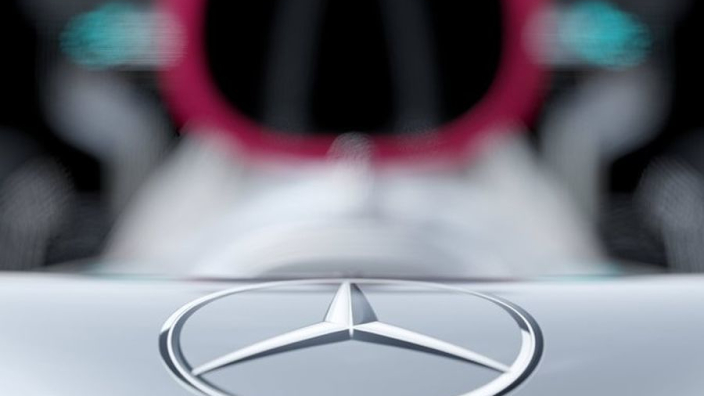 Mercedes reveal their colours for 2020 but fans will have to wait until Friday to see the W11 for real.
Mercedes surprised fans at 10.30 GMT by announcing that a livery launch would be taking place at 11:00 at the Royal Automobile Club in London where the team would introduce their new partner INEOS and reveal their 202 racing colours.
The reveal, which was coupled with the announcement of a new partnership with chemical company INEOS, showed that Mercedes have followed Ferrari and Red Bull down the route of using matte paint for the main body of their car.
A single bold turquoise 'Petronas' strip runs down either side of the car and the main visual difference comes with the the red 'INEOS' sponsored air intake above the cockpit.
#WelcomeINEOS 👊 Our new 2020 @F1 livery = REVEALED!! 😍 pic.twitter.com/kf7eRjcPVu

— Mercedes-AMG F1 (@MercedesAMGF1) February 10, 2020
Speaking of their new partnership with Mercedes, INEOS chairman, Sir Jim Ratcliffe, said, "We do have a genuine passion for sport as is evidenced by some of the other sports that we're involved in, and Formula One is one of the worlds most excited sports, as evidenced by the fact that more people watch Formula One than pretty much anything else.
"It's also this intriguing marriage between sport and technology. We're always debating what would Lewis [Hamilton] do if he was in another car, so it's this intriguing marriage which is very similar to our Americas Cup challenge. It's quite a technical challenge to build one of these boats that really shouldn't sail. It's a ten-story building sailing on a coffee table really.
"In terms of Mercedes, we just had a great admiration for a fantastic engineering company that has been very much at the top of its game and has been very successful in the sport."
Mercedes will officially launch their 2020 car, the W11, with a private event at Silverstone on Friday.