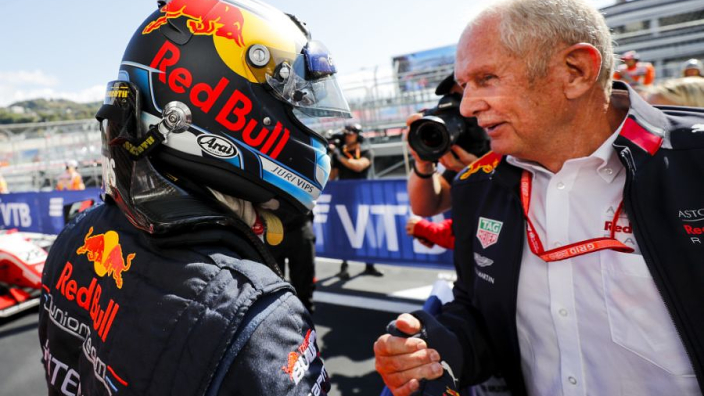 Helmut Marko sets a five-race win target for the Aston Martin Red Bull Racing Formula One team in 2020 while saying that the already ruthless driver academy must become even more so if they are to find the next Max Verstappen.
Jean-Eric Vergne, Antonio Felix da Costa, Sebastian Buemi – these are just three of the five drivers currently racing in ABB Formula E who have previously enjoyed Red Bull backing. Buemi, the season two Formula E champion, and Vergne, the only two-time champion in the championship, were both talked about last year as potential Red Bull drivers when Daniel Ricciardo announced his shock move to Renault.
Marko, the head of the Red Bull driver development program, says that these moves were not even considered.
"Even though a Jean-Eric Vergne wins Formula E again, his driver profile is completely different from what we need in Formula 1," Marko told Motorsport-Total.com. "He would be more or less a complete beginner. You need an entire season to get used to the Pirelli tires."
"We finance these people for one or two full seasons. Without that support, they would not even get this chance. In the beginning, the junior team was only meant to support certain drivers, but now a talent must have the potential to win a Grand Prix. The selection is, therefore, stricter."
Red Bull were a lot closer to the front in 2019 than many predicted after joining with Honda, the Japanese manufacturer having suffered numerous embarrassing retirements since their 2015 return.
Wins in Austria, Germany and Brazil along with numerous other trips to the podium showed that the Red Bull-Honda combination can be a potent one and Marko wants to see more success in 2020 – five wins being the immediate target.
"We want to fight for the World Championship and we know that we have to be competitive with the chassis right from the start," Marko continued.
"Honda has made gains for next year, so after everything that has been achieved so far, we assume that this will happen.
"That means we have no excuses."