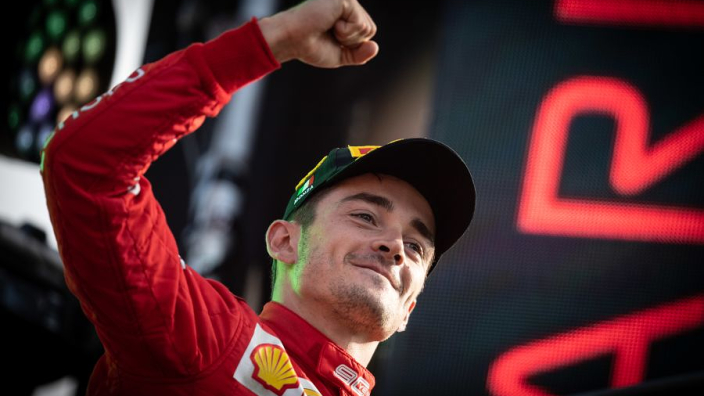 Charles Leclerc says winning the Italian Grand Prix at Monza made him recognise the feeling of being part of the Ferrari family, such as the passion that surrounds the race at the home of the Scuderia.
The former Sauber man was promoted to Ferrari for the 2019 campaign, but it understandably took him a while to adapt to the pressures of performing for Formula 1's most famous and successful team. However, he eventually won two races in a row in Belgium and the Italy, and it was that latter victory in front of the partisan Italian fans that really left a lasting impression.
"It gave me chills and made me realise what it is like to be a Ferrari driver. Of course, I realised a bit before, but I think you really realise when you win in Monza and see the passion," he said at the Autosport International Show.
"You can see it in the eyes of the people, the passion they have for the brand, it is unbelievable to see.
When asked if it made him feel part of Ferrari's history, he said yes, but not quite to the calibre of someone like, say, Mario Andretti.
"Yes, definitely, at least the fans make me feel this way and it is great to feel that way," he said.
"But then whenever I stand next to Mario Andretti or other legends I don't feel at the right place. Now it is up to me to do the job on the track and to try to show my ability.
"It is very, very difficult to find the words to describe what I felt during that race.
"I had a lot of pressure; the whole team had a lot of pressure because we were in Italy and Ferrari in Italy is huge and everyone wanted us to win so there was big pressure around the whole team.
"The week started from the Monday which is quite different compared to the other Grand Prix as we usually start on the Thursday as drivers, but we started on the Monday in Milan.
"The pressure was building up and then doing the pole position was something already but then I had to focus on the race and in the race I had no space to breath.
"I had Lewis all of the race less than two seconds [behind], so a lot of pressure and then to be on the podium and to have finally won the race and to see the red army on the podium was something extremely special."