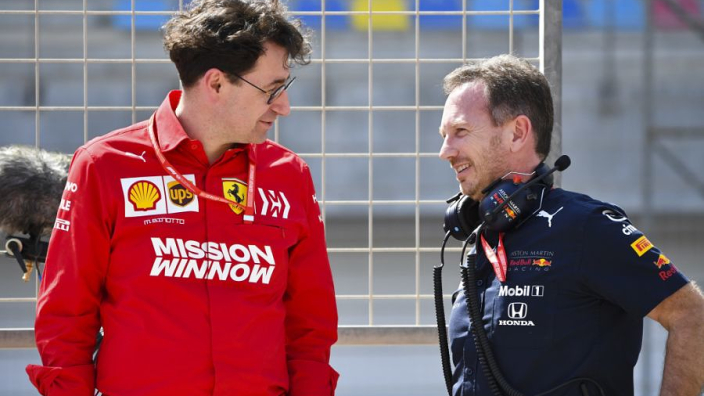 Red Bull team principal Christian Horner says the 'lock down' on engine regulations towards the end of 2019 will be key in deciding the upcoming season.
Mercedes may have dominated the opening exchanges of the 2019 season, but after the summer break, Ferrari were found pace seemingly out of nowhere. The straight line speed of the scarlet cars was far superior to any other on the grid.
This sudden burst of pace prompted questions and subsequent FIA investigations into the legality of their power unit, but nothing illegal was found. Regardless, Ferrari's pace mysteriously vanished just as quickly as it had appeared, and Horner welcomed the 'lock down' ahead of the 2020 season.
"The power unit aspect of the car is an incredibly complex piece of kit," Horner told Motorsport.com. "And I think that the FIA don't have the expertise that the teams have developed.
"I think what has been clarified is a lock down in various areas, which is focused on what's happening going forward rather than looking behind us.
"And for us, what was enormously important was to have absolute clarity going into the 2020 season."
Despite their pace disappearing after investigations, Ferrari team principal Mattia Binotto continued to protest his team's innocence.
"If I look at the whole season, we have been one of the most checked teams, that was before or after the technical directives," said the Ferrari boss.
"And when you got a performance advantage, and certainly we got it during the whole season, we have been the most checked.
"Being checked I think it's normal, it is somehow good because through the checks you are proving your legality.
"After the technical directives, the number of checks on our cars have multiplied. The reviews have been shown to FIA the details have been discussed.
"So whatever could have been done through collaboration with FIA has been done. We have never changed our way of operating the engine for the last part of the season, showing that somehow our power unit has full legality.
"Otherwise had that not been the case, if there would have been any non-legality, it would have come out at the very first check."