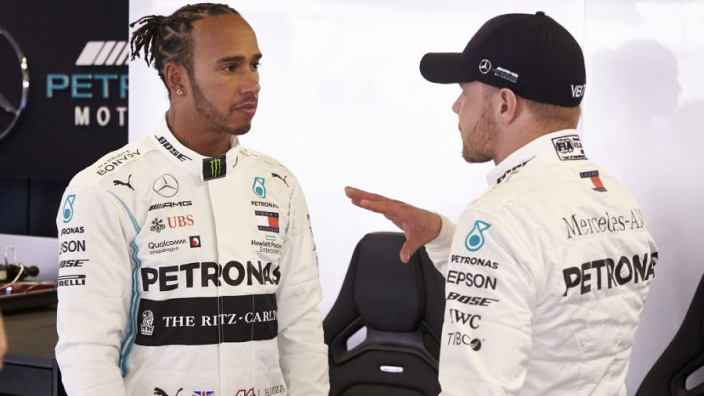 Lewis Hamilton says Valtteri Bottas will have had access to many of his racing secrets in 2019, with a member of Hamilton's engineering team having switched sides in the Mercedes garage last season.
Hamilton's performance engineer Riccardo Musconi became Bottas' race engineer in 2019, helping the Finn win two of the opening four races of the campaign to appear a genuine title threat to his team-mate.
Bottas could not maintain form through the campaign as Hamilton eased to his sixth world title, however the switch behind the scenes did not have the bitterness that a similar situation between Lewis Hamilton and Nico Rosberg had done previously.
And Hamilton says that being aware of Musconi's presence on the other side of the garage merely gave him another challenge to overcome in 2019.
"He is a very talented engineer and naturally he wants to progress," Hamilton said. "No-one wants to stay in the same position and being lead engineer has got to be a great goal for an engineer.
"But we had learned so much and working together I had pulled things out of him that perhaps he didn't realise he would have, or maybe it would've taken longer to have done, and vice-versa.
"So then when he goes over to the other side, without doubt he'd have been saying, 'Valtteri, why weren't you doing these things, Lewis does this, why are you not doing that?'
"This year it has made it even more challenging, because I'm thinking, 'OK. How do I twist it? How do I change these small things now that they're doing the same, without losing performance?'
"Now I've got to refine it and take a step up. When it's already close to 100 per cent, taking that 1 per cent, the gap closes. So bringing in a new ace is so hard to find."