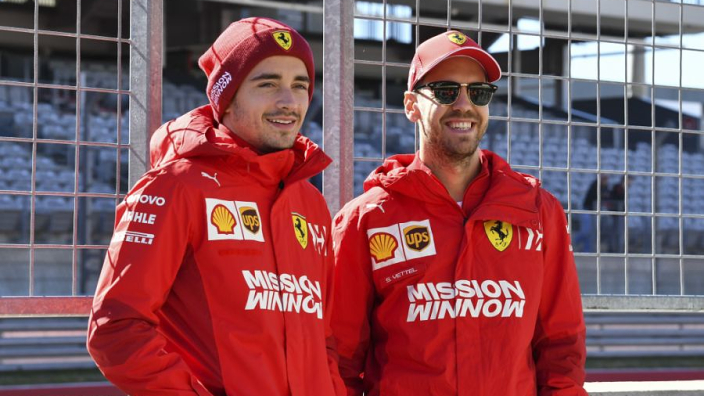 Ferrari CEO Louis Camilleri says that, despite various disagreements and even a crash between the pair in the 2019 F1 season, team-mates Sebastian Vettel and Charles Leclerc do get on behind the scenes within the Scuderia.
After an impressive debut season with Sauber, Leclerc was promoted to Ferrari at the expense of Kimi Raikkonen, who moved in the opposite direction
However, it soon became clear that the Monegasque driver would not settle for being the team's secondary driver to Vettel, which Ferrari pretty much confirmed was the case before the season had even started.
Leclerc outperformed Vettel throughout the campaign, winning more races and finishing higher in the championship. Things came to a head at the Brazilian Grand Prix which saw the team-mates collide, but Camilleri is content that the period of alleged hostility has passed as the team prepares for 2020.
"A lot has been written," he told Motorsport.com.
"You should know that behind closed doors they actually get on very well.
"There's great respect between them, they joke together, and there's quite a great relationship. Clearly, they're both very competitive. And Brazil was a nightmare.
"However, now the air has been cleared. And I think you sometimes need a crisis to put the goalposts in the appropriate place.
"I think they both realised that Ferrari was the big [one to] suffer in this collision that they created.
"And I actually think going forward, it gives Mattia [Binotto] a much better way of managing them, and also renders them significantly more receptive because they realise how they screwed up."
The Ferrari CEO admits that even he and some members of the team were "surprised" at just how quickly Leclerc adapted to his new surroundings, as well as the level of performances he provided in just his second F1 campaign.
"We all knew that Charles has a lot of talent," he added.
"I think he has surprised even ourselves as to what he was capable of doing.
"He became stronger not only as a driver, but as an integral part of the team. For us that's very important. He has a great relationship with the team and continues to build upon it."